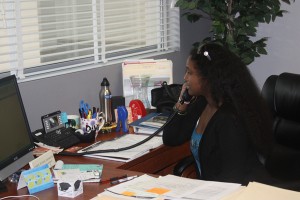 On April 1st, 2011, I had the chance to be Principal for a day—pretty cool, right? When I found out I won, I wore a shining bright smile for the rest of the day. I expected an exciting day where I could just lay back, put my feet up on the executive desk and have fun. However, things did not go as I expected…
6:30 – I come into the office and the staff welcome me and call me "principal." I feel legit—I mean, it's only the morning and everyone is greeting me so nicely.
6:59 – I stand outside, as kids are running to their classrooms, since they had only 15 seconds left until they were tardy. I didn't know that so many students were late. As principal, I feel that it shows a lack of discipline and interest for school.
7:05 – I left the office to check the campus for students lurking around in the hallways. I never felt so lonely, walking around the campus alone.
7:15 – Mrs. Felicia Nemcek makes me leave her office because she has to talk to Mr. Michael Butler about the budget cuts. Unfortunately, the cuts were a major priority and had to be dealt with this day, which made it impossible for her to attend my classes. I don't blame her for not attending my classes—making those tough decisions is a difficult task.
7:20 – Some of the staff play "Friday" by Rebecca Black and seem to be excited that it is Friday.
7:32 – Mrs. Paige DeSantis asks me what to do because the AP tests were missing and may have been sent to different teachers instead of her. I look at her with a confused look because I finally have a decision to make. I come to the conclusion that she should check the teachers' classrooms just as Brad, the custodian, came in with the tests.
7:40 – I went back to my office and Mrs. Felicia Nemcek explains to me how it's tough being a principal and the effects of the budget cuts for next year.
8:11 – I drive the orange cart. It is so fun!
8:13 – I became a little too excited. I drive in reverse and crash into the flower garden outside of the "A" building. Mrs. Nemcek showed me how to go forward, but not how to stop.
8:20 – Mr. Michael Butler, Mrs. Gia Moore, Mrs. Nemcek, and I inspect the stage for the fashion show that will be held on Saturday. Professional designers made it, according to the lengths the fashion students provided them. I look at it and already know that it is too tall for them to access from the platform to the runway.
8:59 – I shake hands with Sandra Fox, the head costume designer for the Beatles Love show. We take her to the "E" building. I can't believe I'm actually meeting someone famous!
9:55 – I realize that being principal is a LOT of work. Things, such as eating or checking daily emails, get pushed back until all the important items have been completed.
10:15 – Mrs. Nemcek, Mrs. Moore, and I go to the robotics competition at UNLV. They talk about how they used to go to UNLV for college. I feel pretty cool leaving campus, without getting in trouble.
11:02 – I meet the President of the Board of Trustees for CCSD, Carolyn Edwards. There is this feeling I have of being official—I'm actually principal! I mean, it didn't occur to me before because the real principal was still around. Now I see the president, and I have this cool feeling of being superior to anyone else.
11:19 – We go to Stephano's to eat lunch. Thank the Lord—I don't have to eat anymore of the food they give us during lunch. I would rather have hot, crispy French fries than French fries that taste like cardboard.
11:50 – Mrs. Moore pokes fun at the way Mrs. Nemcek slams the breaks when she's driving. Then they go into this hilarious conversation about each other's driving, while demonstrating their driving flaws. For example, Mrs. Nemcek leans too close to the steering wheel, which represented how Mrs. Moore drives. I would think the staff was always so proper and professional, but they can be just as fun as the students.
12:00 – Mrs. Nemcek and I visit some of the teachers' classrooms. She introduces me to them and we have a little fun when it comes to Mr. Matthew LaPorte's and Mr. Timothy VanKirk's classroom.
12:10 – We congratulate the students who won the Food and Nutrition contest by answering the question, "Why is breakfast the most important meal of the day?" in the form of a video, essay, or PowerPoint. The winners received a cash prize. I finally get to hang out with Laura Nguyen, sophomore, a friend who won first place in the contest.
12:40 – Mr. Butler walks the catwalk. Some of the students make me do it too because they tell me that it happens to be mandatory for the principal to do the catwalk, if the assistant principal does it as well. I do it and I show them that I don't just talk the talk—I walk the walk.
1:22 – I make my first announcement on the intercom. I feel pretty confident, but just a little nervous that I may mess up.
1:24 – I have to give the walkie-talkie and the coyote lanyard back to Mrs. Nemcek. The day was so much fun—couldn't I be principal next week too?
At the end of the day, I learned that being principal requires dedication and commitment. Sometimes you just have to do what you have to do. Having power as the principal means something. You can't abuse it, and you certainly can't allow one thing to happen for one person, but not others. You have to be there for your students and staff. You run the school. Though it may be stressful and difficult at times, a principal has to make the best of it and continue on. After all of the work, I learned that it's all worth it. For me, being principal for a day is just one step closer to being President of the United States.