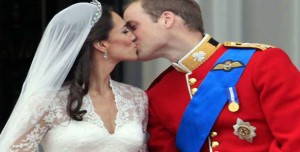 On April 29, 2011 Catherine "Kate" Middleton said "I will" to Prince William Arthur Philip Louis in Westminster Abbey in London. Daily life in Britain came to a stop as they enjoyed a bank holiday to witness the royal wedding.
The celebration started out with the royal guards marching in their red coats and black fur hats while playing their instruments in a square formation. Celebrities arrived car by car; Mrs. and Mr. David Beckham, Sir Elton John, and members of royal families such as the Prince of Bahrain, Princess of Morocco, and the Princess of Thailand.
Among those on the uninvited list were Mr. and Mrs. Barack Obama, former Prime Minister of the United Kingdom Tony Blair, and Bashar al-Assad, president of Syria.
"I was really surprised to not see the President of the United States there, I thought he was going to be one of the more important people there," states Nidia Garcia sophomore.
Chauffeured in a maroon Rolls Royce, Prince William and brother Harry arrived at Westminster Abbey at 10:15 a.m.; Prince William in royal red military attire, while his brother wore black military attire.  Shortly after, Carole Middleton, mother of Kate and brother of Kate, James Middleton, arrived. At 10:45, Prince Charles and Camilla arrived at the wedding led by royal officers. Closely behind, the queen made her appearance; people showed their joy cheering and screaming upon her appearance.
"It was really amazing to see how many people were there in their red, white and blue outfits showing their respect for the royals," says Caitlin O'Malley, sophomore.
Adoring fans signaled the arrival of Kate in the same car that Princess Diana had once arrived in. Once she took one step out of the car all attention was on her. People were in awe staring at her in her beautiful dress: pure white, long veil, 10 foot train, long sleeves, tiara, wearing her hair down.
"Her dress was so beautiful! It was really conservative, but still elegant and had a hint of sassy," says Neela Zaman, sophomore.
And then the time finally came. Kate joined hands with her father, Michael Middleton, and began her journey down the aisle. When she got to the alter the choir began to sing hymns of joy as Kate took her spot next to her soon to be husband, William. Vows were spoken with great emphasis and both responded "I will". "Every wedding is a royal wedding because we are all people of the King of Creation," stated the Bishop of London, Rev Richard Chartres.
Kate and William made an amazing exit in a maroon carriage drawn by four white horses just like a fairytale.
At 1:25 p.m., standing on the balcony of the Buckingham Palace, Catherine Middleton and Prince William enjoyed a sweet kiss making this their first kiss as married couple.
"The kiss was so sweet. It was quick, but you could tell that they were so happy; fans seemed to really love it too," states Mai-Li Miller, sophomore.