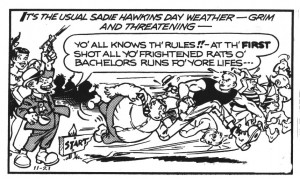 The increasingly popular Sadie Hawkin's Dance is breaking down the traditional barrier of guys asking girls to dances.
Both genders normally match outfits, so people can tell who others are at the dance with, changing the traditional homecoming or prom attire of suit and tie for males, and dresses with heels for the ladies.
The dance has existed since 1937. However, many are completely unaware of the history of this unique tradition.
Sophomore Agnes Miciano says Sadies exists because "a man got lazy" and did not ask a girl to dance. She explains the girl may have gotten frustrated and asked the man out herself.
"A girl wanted to go to a dance, so she was selfish and asked a guy out herself," disagrees sophomore Lauren Smigulec as a reason as to why Sadies exists.
Science teacher Dennis Goode also did not know the exact origin of Sadie Hawkins dances. "I just know that schools like them."
The truth behind Sadie Hawkin's dances is in Al Capp's comic strip. Sadie Hawkins first existed as "the homeliest gal in the hills" in a comic strip known as "Lil' Abner." In the cartoon, her father designated a day in November when the unmarried women could chase the bachelors around town. If a woman was able to catch a bachelor, they became lawfully wedded.
In 1939, Life magazine reported over 200 colleges holding celebrations that mimicked the chasing and ended with mock weddings.
During the Great Depression, college students could easily afford to dress up in casual attire, as the event did not require formal attire. The celebration had great appeal as it allowed women control in choosing a man.
The event has become very common in colleges and high schools across the nation. Some schools refer to this event as Women Pay All, The Woman is Required to Pay, Gender Bender, and Girl's Reverse.