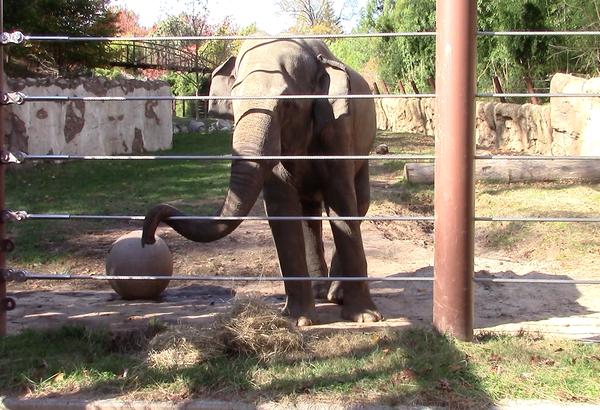 Nikki Molina and Acel Soriano also contributed to this story. This story was awarded a "Superior" ranking for the Online News Package Writeoff Category at the 2014 NSPA/JEA Washington D.C. convention.
According to worldwildlife.org, there are currently 16 critically endangered species, 33 endangered species and 15 vulnerable species in the world. The Smithsonian Zoological National Park located in Washington, D.C., holds roughly 1,800 individuals of 300 different species in their animal collection and one fifth of their animal population is deemed endangered or threatened.
The park is currently in possession of seven Asian elephants, whose species is listed as endangered on the World Conservation Union of Nature's (IUCN's) Red List of Threatened Animals.
"It's interesting to be able to learn about these types of animals. When I signed up to volunteer, they had us take a class and we learned a lot about Asian elephants. Our zoo has six females and one male [Asian elephants]," Elephant Trails Interpreter Karen Schwartz said.
With as many as 60 different endangered or threatened species in possession altogether, the zoo admitted the Asian elephants through the Association of Zoos and Aquariums (AZA) Species Survival Plan (SSP).
"We do not bring elephants in from the wild. In some cases, they are from the wild but they're not captured. If they're from the wild, they just needed relocation," Senior Elephant Zookeeper Debbie Flinkman said.
Each SSP program is managed by their corresponding AZA Taxon Advisory Group (TAG), which examines the conservation area to determine the needs of an entire taxa, or species. The TAG authorizes the keepers and staff at the Zoo to relocate the animals based on their species' needs.
"It lets us move the animals around based on breeding needs so we can take those things in account," Flinkman said.
In addition, the "Elephant Outpost" area was recently renovated to accommodate and harbor these endangered Asian elephants. Each elephant is fed 125 pounds of hay, 10 pounds of herbivore pellets, 10 pounds of fruits and vegetables and a few leafy branches every day at the zoo.
"I love learning and talking about the animals. It's amazing to be able to talk to people about these amazing elephants," Schwartz said.
The zoo's only male Asian elephant, Shanthi, will turn 13 years old on Nov. 25. He is the only elephant that was born at the zoo.
"I've never been to this zoo before. It's my first time here and I love seeing all these interesting animals," Westchester, N.Y., local Naomi Esteves said.
In order to help save the Asian elephants, Friends of the National Zoo (FONZ) accepts money donations online. The establishment has successfully raised 48% of their $80 million goal at $38.5 million.
"It's nice to see animals that you don't really get to see every day. I've always wanted to see the panda because they're very endangered and I want to help in some way," Hyattsville, Md., local Herbert Estrada said.