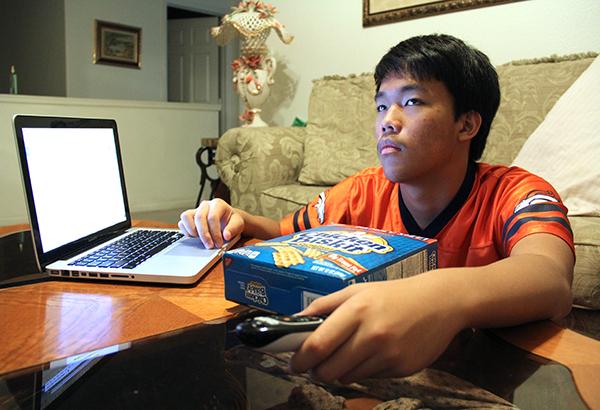 On Sunday, Feb. 1, millions of viewers in America will tune in to NBC to watch Super Bowl XLIX. The Super Bowl is one of the biggest sporting events in the United States and is discussed by children, teenagers and adults alike. Which team will win? Will there be hysterical commercials? Can Katy Perry knock out the power like Beyonce did? Can the Super Bowl still engage viewers who do not keep up with the seasonal standings?
The Gridiron
Just because the school does not participate in sports does not mean that the student body does not have an interest in the game. The football game itself can open up a discussion and debate.
"I'm really interested in watching the Super Bowl, and I will be watching it," junior Stepan Gevorgyan said.
Super Bowl XLIX pits two juggernaut teams: the New England Patriots and Seattle Seahawks. In addition to the matchup, the actual game has brought storylines (other than Deflategate) that make spectators salivate. Will Seattle repeat as champions, or will New England win for the first time in a decade? Will the feud between cornerbacks Darrelle Revis of New England and Richard Sherman of Seattle be settled on Sunday? With all the storylines and matchups on game day, the actual match can garner much interest from outside of the sports realm.
"I'm super excited for this year's Super Bowl. It's the biggest sports event in America. Being at a school without sports isn't great, but it makes you appreciate playing sports more. I think it's a great matchup with New England versus Seattle. I can't wait to watch it at home with friends and family," junior Leonardo Castro said.
Rocking with Katy Perry, Lenny Kravitz… and YouTube?
Men in pads hitting each other and throwing an oddly shaped ball may not be appealing to some viewers, but they can still watch the halftime show. The twist this year is that viewers will be treated to not one, but two performances. The show at the actual game will feature Katy Perry and Lenny Kravitz, while the other will be on Youtube, featuring stars such as Harley Morenstein of Epic Meal Time.
"I think it's a good idea to have YouTube's own show, because it's a big step to show that they're not a separate entity from television," sophomore Kristine Liu said.
With the highly acclaimed performances of Beyonce and Bruno Mars at previous Super Bowls, will Perry's performance be just as enjoyable?
"I don't really watch football but the halftime show is always exciting. I heard Katy Perry is going to put on an amazing performance. I, myself, am a fan of Katy Perry and I know most of her songs, so I am ecstatic to see her performance," junior Kimberly Yiv said.
Million-dollar commercials
Another aspect of the Super Bowl that draws student interest is the commercial breaks. Because the Super Bowl hosts millions of viewers, companies cash in $4.5 million to make over-the-top commercials. Ranging from being comical and light-hearted to serious and sincere, these commercials add another level of entertainment.
"I like watching the Super Bowl commercials because they're funny and not like regular commercials," sophomore Scarlet Saenz said.
The Super Bowl commercials offer a different type of advertisement that normal commercials do not. Instead of being straightforward and to the point, viewers are offered a story throughout the commercial before persuading people to buy the product.  Another component of what makes Super Bowl commercials different is that they add creativity and celebrity cameos. Instead of seeing a commercial about two unknown people talking about Snickers, we see Betty White getting tackled in a Super Bowl commercial
For example, "The Force" Volkswagen commercial in 2011 was meant to promote the Passat. Volkswagen toyed and flirted with viewers and Star Wars fans by portraying a kid throughout the commercial failing to imitate to be Darth Vader and at the end finally using 'the force' to turn on the car.
"It was pretty funny seeing a tiny Darth Vader trying to control the car. It made it even more funnier when the kid looked so surprised when he used the force to make the car go off, even though it was his dad pressing the keys," sophomore Shann Pagado said.
Although the game, halftime show and commercials seem like different entities, they all mesh together to make the Super Bowl one of the most advertised, viewed and attended sporting events in America. The uncertainty of the game, the grandeur of the performances and the originality of the commercials all work in harmony as spectators take a seat on their couches or at the stadium and participate in the traditional Super Bowl experience.
Just not interested
However, for those who are completely not interested in the Super Bowl, there are some animal alternatives. Animal Planet will be airing the Puppy Bowl, while Hallmark will air the Kitty Bowl.