Freshman Ramsey Gomez is an average teenage boy living the dream by playing video games and making money. He started playing video games at a young age and has progressed through support from his parents—especially his father, as he has experience with the gaming community.
"This career choice or path that I have taken started when I joined little competitive teams and started to win competitions. After winning a lot, I started to be well known and got sponsored. This year my old manager called and asked me if I wanted to go to the East Coast to join 'Glory Eternal,'" Gomez said.
He has a lot on his plate with school, Student Council and practicing with his team for the upcoming tournament against well-known teams across the country.
"It's always going to be a big struggle. League is not just a game, it's my job. Because I make a fair amount of money from entering free tournaments, I'm always going to play league daily. School will just be something I focus on later at night when practice is over. Therefore, I'll have to sacrifice lots of sleep to keep up with League and school," Gomez said.
[vision_pullquote style="3″ align="right"] With the increasing amount of tournaments being streamed by Twitch, more gamers are tuning in to watch. [/vision_pullquote]
Gomez participating with his team in various League of Legends tournaments is just one speck of dust in the larger picture. From witnessing pentakills in League of Legends to trickshots in Call of Duty, the video game community has grown exponentially: not just for playing games, but also for spectating. Video gaming has become more and more competitive, with tournaments reaching international fame. Dubbed 'eSports,' competitive gaming has become increasingly popular among both adults and students.
"With technology constantly advancing and the power to be able to obtain a decent PC, PC gaming has been rising so it doesn't shock me that eSports is becoming more popular," junior Kris Medina said.
The origin of video game tournaments can be traced back to 1970s arcade games that went online in the '90s. The first competition took place at Stanford University in 1972, where students played the game Spacewar in an attempt to win a free subscription to the Rolling Stone magazine. Today, out of the 200 video game competitions currently available, the largest eSports tournaments are Major League Gaming (MLG), League of Legends World Championships and Call of Duty Championships.
"It is amazing how eSports has grown. In the past, you could not have been a professional gamer. But now, you can make a living off of winning tournaments and be professional in major league gaming," Video Game Technology instructor Terry Lively said.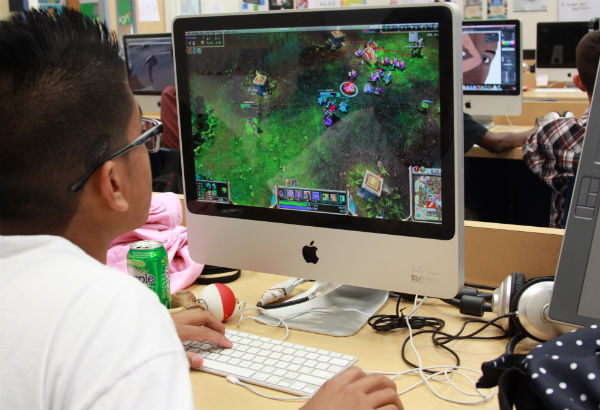 The popularity of eSports has emerged thanks in part to streaming services such as Twitch and MLG.tv. Gaming events are streamed on these sites, providing a way for players to keep up-to-date with the gaming community and thus gaining millions of views. Twitch has an average of 45 million viewers watching 13 billion minutes of gameplay each month, making it the 4th most visited site on the Internet. With the increasing amount of tournaments being streamed by Twitch, more gamers are tuning in to watch.
[vision_pullquote style="3″ align=""] The rise of eSports can thank the competitive human spirit. [/vision_pullquote]
"I believe that Twitch gives a more complete view on the entire gaming community, not only showing good players, but also players who are improving. Twitch is somewhere I learned how to improve and understand the mechanics of the game I play," sophomore Shawn Wang said.
Aside from the inflation of viewership, the amount of prize money awarded at tournaments has escalated dramatically. The reason tournament winners earn this much is because companies are crowdfunding to beef up prizes.
"I still think eSports is underdeveloped and is still an underground lifestyle. I don't think that a lot of people that know eSports is a serious thing, and people think that it is a joke. So I think that the prize money is an adequate amount," Spanish I instructor Mr. Nathan Jayme said.
The rise of eSports can thank the competitive human spirit. Just like physical sports, eSports have become a profession. Some gamers have goals of playing professionally, winning prize money and ultimately, becoming the best.
"I do believe that the competitive aspect of video games lets them be more credible in the eyes of your average sports fan. Without the competitive element being evident to some who don't know about the sport, it won't be interesting or grow," junior Adam Rifat said.
The story of Ramsey Gomez continues, however. Ramsey is in a tournament called Black Monster Cup which is an online tournament for Europe and North America. The stakes are high, as 1st Place wins US$7,500.
"We basically advanced to the playoffs and if we lose all of our games, we will get $375 regardless. Although, I believe we can go much further and take a shot of being champion to win US$7,500," Gomez said.