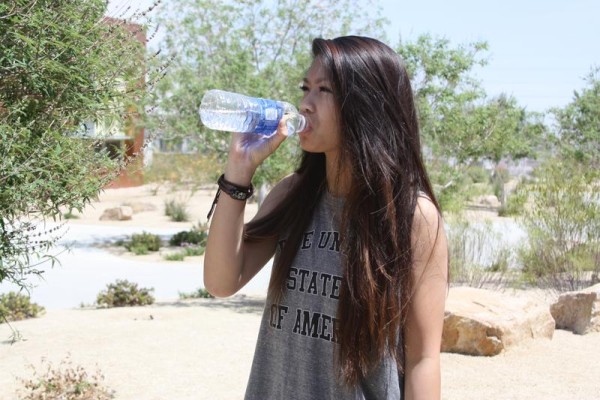 Summer is a mere two months away, but for us natives of Las Vegas, the incoming heat has already started to hit. In Vegas, it seems Mother Nature forgot to include a lengthy spring time and, instead, added some extra time to summer. For anyone who's not familiar with the hot weather, these seven tips will help you survive the summer heat.
1. Wear comfy clothing and dress accordingly!
Avoid wearing jeans and dark clothing; jeans are thick enough to trap in the moisture and heat inside, preventing the coolness you desire. Choose a lightweight t-shirt and a pair of denim shorts with sandals or tennis shoes.
2. Coordinate your makeup choices with the weather.
Girls, this tip is especially for you: do not wear heavy makeup! It's alright to look pretty, but don't go with the full on look. Instead, try using waterproof mascaras and light foundations, so when you sweat you can avoid looking like a clown.
3. Drink lots and lots of water.
Las Vegas hits triple-digit degree heat during late spring and early summer time, and increases as the summer goes on. It'd be crazy to think that you could survive in that type of environment without a water bottle in reach. Downing only energy drinks increases your electrolytes, even though your body is in need of hydration. Although it's best to drink as much water as you need, avoid drinking excessive amounts in a short period as it can lead to water poisoning.
4. Spend days by the pool-or even go to one of the new water parks.
Plan different ways to stay cool during the hot days, such as hanging out by the pool or even a 15-person water balloon fight. You can even buy assorted pool toys and a mini blow up pool and plan a "beach day." Now that Las Vegas is expecting Wet n' Wild to open Memorial Day, you can cool off there. Keep in mind that the lines will be long and very crowded, so keep other options open for the day.
5. Protect your skin and apply sunscreen when needed.
Everyone always complains about having to apply sunscreen and that the worse that will happen is they'll end up with an ugly sunburn. What they don't know is that being sunburned affects their melanoma balance, increasing their chance of skin cancer. You don't want to have wrinkly skin at the age of 35, now do you?
6. Have fun.
Above all, have fun. This is probably the most important tip: don't be angry or cranky about the heat. Summer is the time to have fun with your friends while enjoying the free time you have. Instead of stressing because of the triple degree weather, enjoy the day.

Loading ...