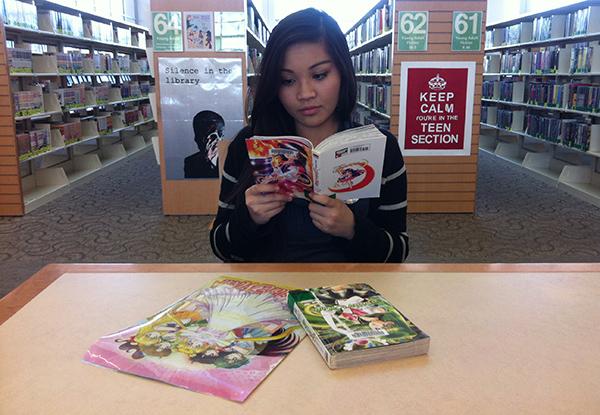 As the school day comes to an end, most students want to go home or hang out with their friends. But, this is an exception for sophomore Marissa Villarosa. As a 'Moonie,' she likes to spend her free time burying herself in Sailor Moon books at the library.
Southwest Shadow: Who is Sailor Moon?
Marissa Villarosa:  Her real name is Serena Tsukino and she is the incarnation of the Moon Princess of the Silver Millennium. She was reincarnated into the future as the superhero, Sailor Moon, so that she could be able to save Earth from the Negaverse if they were to ever appear again.
Shadow:  How did your interest in Sailor Moon start?
MV: When I was about 6 years old, the TV show, Sailor Moon aired and I fell in love with it immediately. I always amazed at how pretty and unique her hairstyle was, honestly.
Shadow: What was your first impression of her? How has it changed?
MV: My first impression of Serena was a very clumsy, disorganized, and goofy teenage girl. Though, I always thought she had this special aura about her. Whenever she walked into the scene, everyone around her would suddenly perk up just from her presence. Now, I look at Serena as a pillar for all of her friends. I see her as a very reliable and happy-go-lucky person.
Shadow: What makes Serena a happy-go-lucky person?
MV: I think what makes Serena a happy-go-lucky person is the fact that she is constantly surrounded by the people she loves, her family and friends. Whenever she is able to see them or be with them, her mood immediately brightens up. She always knows how to cheer up her loved ones in their time in need, and looks to them for her strength.
Shadow: What about Sailor Moon do you like? What makes her special?
MV: I love her determination for everything she does, and the faith she always keeps in others. Whether it is defeating the Negaverse, or lending a friend a helping hand, she never goes back on her word. Her words are as true as her heart. Sailor Moon has always been my favorite superhero because she is the symbol of love and justice. She represents those who are not able or do not realize it is okay to love.
Shadow: How do others feel about this? Is it difficult for you talk about your interest with others?
MV:  I do feel like my friends do think I am a little weird and odd about my passion for Sailor Moon, but that's okay. My parents don't really mind, but my brother on the other hand looks at me like I'm insane for liking a kids' show. I actually found it really hard to "come out of the shadows" with liking Sailor Moon. Since it's not really something the average teenager would find interesting, I always thought people would look at me differently. But surprisingly, ever since I have recently told people about my obsession, the views weren't as bad as I thought they would be.
Shadow: What made it difficult to come out? What did you expect?
MV: What made it difficult to come out was probably my fear of what others would think about me, since it's not something everyone likes. Honestly, from my close friends I didn't really expect that much judgement. Though, from others I expected people to look at me like I'm ignorant and childish. It turns out they didn't do that at all.
Shadow:  Has Sailor Moon impacted you? If so, how?
MV: Actually, she has impacted me much more than I probably realize it. She is like someone who I would want to be when I grow up. Someone who will always be there for their friends, and can always find the light in the darkness. She taught me to always accept others no matter what.
Shadow: Out of all the books you've read, which book is your favorite? Why?
MV: I would have to say Volume 3 was my favorite out of all 12. It was probably my favorite because the whole volume is dedicated to retelling the past of Serena, when she was Princess Serenity of the Moon Kingdom during the Silver Millennium.
Shadow: How many episodes have you watched of Sailor Moon?
MV: I've watched all five seasons of Sailor Moon, which happens to be a total of 200 episodes. But, there is a new version of the anime coming out next month, which I am very much anticipating.
Shadow: When you reread the series, do you still have the same reactions when you first read it?
MV: All the time! When I first watched the series and read the manga series, I felt just as suspenseful and amazed as I do now, almost 10 years later. Sailor Moon never ceases to amaze me.
Shadow: Do you think you will ever outgrow the series?
MV: Of course not! I've loved Sailor Moon for the past 10 years. I'm now a teenager and still have the same interest that I've always had before. Even 10 years from now when I'm 26, I don't ever see myself outgrowing the series.