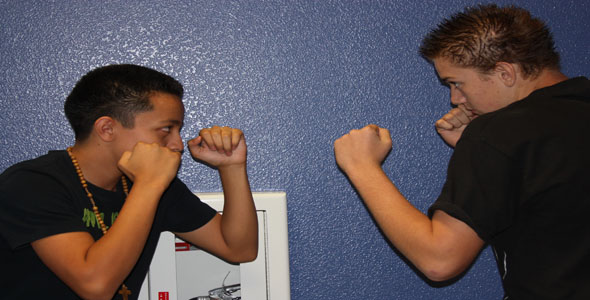 You're in the ring. It's the last round and everyone's screaming your name. Can you imagine the pressure?
Though most believe boxing is a violent sport, they should realize that Mike Tyson partly biting off an ear in retaliation and supervised punches to stop your opponent is two different concepts.
In fact, SWCTA freshmen Xavier Bauer and Roy Badillo practice this sport and compete in legally sanctioned events. Las Vegas schools do not offer boxing, but these students took the initiative to find a training gym.
Bauer and Badillo joined this sport because they had family members who were involved in it. With hopes of reaching success, both constantly train and put their blood, sweat, and tears into every ruthless practice, literally.
"I clear everything off my mind and focus on boxing. It teaches discipline, and you stay in shape," Badillo said.
At the start of a match, different feelings of both confidence and anxiety about the match's outcome overwhelm them. But other than a bloody nose for Badillo, no severe injuries have been incurred. Neither has ever forfeited a match, which displays their effort to win and their confidence in their hardcore training.
"When I get up in the ring, I get nervous because I don't know if I'm going to lose or if I'm going to win," Badillo said.
Badillo has won three out of four amateur sparring matches so far. Bauer was originally scheduled to have his first match on Oct. 15, but it was cancelled due to the fact that his opponent would not fight him.
At times, boxing has disrupted their schoolwork and education. Both boxers spend most of their time training at the gym, which makes completing homework and projects difficult. Though they have a hectic schedule, they stay on top of their responsibilities during the week and have the weekends off. Both Bauer and Badillo intend to stay in this sport for as long as they can, even to the point where it's a career.
"Train hard, run a lot, spar every time you can, and have a separate time to box. There's only a certain amount of kids that can box, and I am one of them," Bauer said.
Badillo looks up to his personal trainer, due to his trainer's fast speed and accuracy, while Bauer feels his uncle has impacted him through their training together.
Though it can be difficult at times, Badillo and Bauer continue to train hard and persevere over obstacles preventing them from achieving their goals. Due to their dedication and effort, they lead as perfect examples for those interested in boxing.
"Never give up! Have confidence in yourself. You might think that you're not good at it, but if you keep practicing, you will get better," Badillo said.