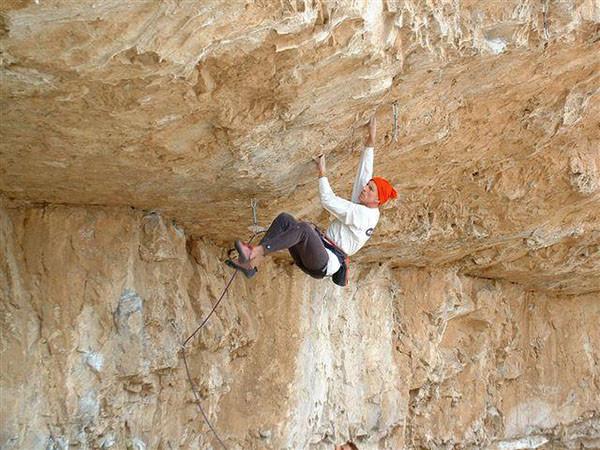 Most teachers have a hidden talent, or an activity they love to do in their free time. That is not the case for Biology teacher Mr. Dennis Goode. Telling his stories about rock climbing and all of the different adventures he has gotten himself into, is a great way to escape the classroom for a short time. As an active rock climber in his early sixties, he can spend anywhere from three to five days a week working to improve his skills while still focusing on his teaching career.
Southwest Shadow: How long have you been teaching Biology? Have you ever taught out of the state?
Dennis Goode: I started teaching Biology in 1975, so I cannot count that many years, but it is a few. [laughs] I taught in the state of Massachusetts and in New Hampshire for a long time. Now I am coming up on twenty years teaching here in Nevada.
Shadow: Rock climbing is something that your students know you love to do. What are some of your favorite aspects about the activity?
DG: It is a great activity, it has all the aspects of a wonderful sport. It challenges you mentally, physically, and even emotionally. You have to be in shape to go out and rock climb and it keeps me fit. I run a lot and keep myself aerobically fit by doing yoga every morning. Rock climbing will require a little bit of everything from myself.
Shadow: Do you find it difficult to juggle rock climbing and school, or has it made you prioritize aspects about your life?
DG: Sometimes I do have to juggle things because of how much I enjoy climbing and having to keep fit. I wake up an hour or so earlier than I would normally have to if I just had to come to school. I do lots of calisthenics and yoga to help my flexibility and I have been doing them everyday for years now. You know, I always have some form of training to do to help my rock climbing, but I think it makes me a better teacher and gives me more energy.
Shadow: How do you take the lessons you have learned from your experiences rock climbing and apply them to the classroom or teach the kids about specific challenges you have accomplished?
DG: To rock climb I have to be very disciplined; I have to make myself get up everyday. I cannot say 'Oh I'm tired, I'm not getting up today.' In class, discipline is important from my standpoint in ways that they would never see. For example, I have lesson plans and teachers need to make sure to finish them. I always make sure I complete the lesson plans, and they are always done and posted. There may be times when some teachers will not post them, but I use that same discipline to rock climb and apply it to my school work.
Shadow: What has been your most extreme injury and how did you get it?
DG: Yeah, I have had operations, I like to think of it, on all four corners. I had an arthroscopy on my right knee, and an arthroscopy on my left knee, then I had shoulder surgery on both my right and left side so that's all four corners. [laughs] But you know everything is working well and bending like it should. One time I ripped the insertion of my bicep tendon off of the bone and they had to do a tendinitis to cut into the area. And that's what that scar is here. [points to scar on inner bicep] If you rip the bicep off of that area the muscle can coil way up into your shoulder and could you imagine your bicep in your shoulder? It does not work then!
[vision_pullquote style="3″ align="center"] When you get to the top, even if it took a couple tries, it just feels like hitting a home run. [/vision_pullquote]
Shadow: Since you have so much motivation to go out and rock climb, do you take that motivation and try to influence students to do better in their life in some way or another?
DG: I enjoy coming in and being with the students as part of my job. In a sense I try to motivate them to do better in their education. Just like I choose to rock climb, I could inspire students to choose to try to do better in their education and be able to have a better life. Having an education allowed a person to make better decisions for what they will do to live a fulfilling life.
Shadow: What has been one of the scariest experiences you have had since you have started rock climbing?
DG: You know there have been many, especially when I used to do big mountain climbs regularly. I would be a thousand to two thousand feet up above the ground on the rock face and lightning would hit a rock a couple hundred feet away. One time I remember being way up and I started to feel my hair having some electric feelings in it. You were in an area where static electricity could turn into a lightning bolt and that is not where you want to be.
Shadow: Do you have one ultimate fear that you are afraid of about the overall aspect of rock climbing?
DG: Yeah, I am getting a little bit older, I am in my early sixties now. Sometimes I fear not being able to rock climb. Sometimes when I have a moment to spare in revery I will sit there and think, 'Wow, if I was not working right now I could be out climbing on a big climb just looking down and seeing the valley.' But you know, I fear that when I get into my seventies maybe I will not rock climb as much.
Shadow: Do you have any specific advice to give to rock climbers in training?
DG: Oh, four days a week indoor. Tuesdays and Wednesdays I always climb indoor for a couple hours in the evening. So I climb two days a week indoors, then normally on Saturdays and Sundays go out climbing for a couple hours or sometimes for the whole day. That is something new rock climbers need to take into consideration. You will have to practice hard and do stretches like yoga before a big climb. There is this indoor place called 'The Red Rock Climbing Center' and its cool. I remember climbing there years ago when it just opened.
Shadow: How would you describe the feeling you get while rock climbing if you had to explain it to someone who's never experienced it?
DG: Could you imagine if one day you choose to get married and you feel on top of the world? Most people say they do. Or if I was a baseball player and I just hit a grand slam home run? Or if I was a really academically inclined student that just received SAT scores and you found that you got a perfect score? That's how I feel when I do a climb. When you get to the top, even if it took a couple tries, it just feels like hitting a home run. You can sit back and say I did it.