Is there a difference between this year's female winter wear and last year's female winter wear? Yes there is! Female students went from wearing plain bright colors and simple clothing combinations to a more sophisticated grown up look.
This year, winter wear is more stylish and a bit more fancy than it was last year. It's a look that says "we don't need mommy to dress us anymore."
Keep Your Toes Warm & Toasty!
Not only are these boots made for walking, they're also made to keep Jack Frost from nipping at your feet. The most common boot styles are Uggs or Pad boots. Whether their calf high or ankle high, simple or exotic, winter boots are dominating our school's hallways.
Sophomore Julie Diaz says, "I see a lot of basic colors being worn on the student's feet. Colors like black, brown, or gray. They never wear boots with heels because those are extremely uncomfortable, but we like to rock ankle high boots."
Available at DSW for $40-50
Rampage Beckett Bootie
(available in more colors)
Layers, Layers, Layers
Leggings used to be a big, but now SWCTA ladies are taking it to another level. Students enjoy wearing leggings with cute lace designs or simple colors along with shorts or skirts. They keep your legs warm and your knees from shaking.
Sophomore Trisha Bantigue says that leggings alone don't make the look.
"Students would wear leggings with a nice lace pattern to it, but would also wear waist high shorts or skirts along with them."
Waist high shorts or skirts hug your hips and define the body's natural curves
.
Decree Denim Knit Legging
Available at JCPenney
(available in more colors)
Keep Your Tops Comfy and Casual
If you feel as if the boots and waist high shorts are too fancy for your style, stick to wearing a fitted pull-over sweater or a hoodie with a nice pair of skinny jeans or leggings. Recently, students bought class hoodies, which are perfect for a casual day.
Sophomore Maureen Manipon likes to be a bit more edgy with her sweaters.
" A lot of people like to wear sweaters alone. I like to wear my sweaters with a leather jacket. It adds style to my look."
When she feels like dressing down on a Friday she wears a regular pull over sweater alone with a nice pair of matching boots.
"It's so comfortable," says Manipon, "and it's cute too!"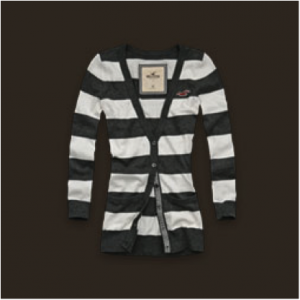 Embarcadero
Available at Hollister Co.
(available in more colors)
All That Matters is What's on the Outside
Jackets are very important for winter wear, but not just any jacket.
Manipon says, "Leather jackets are all over the place!"
From racer jackets to varsity jackets, as long as there's leather, it is in.
Diaz thinks, "Leather jackets are worn more for an edgy look. If the ladies want to keep it feminine, they wear trench coats or cardigans along with heels, a scarf, and a barrette."
Women's Buckle-Trimmed Real Leather Jackets
Available at Old Navy
AccessoRISE
The most dominant must-wear accessories this season are beanies or earflap beanies. They keep our hard working heads warm throughout the entire school day. They either have a cute winter pattern or they look just like animals. Along with the beanies, students like to wear scarves, gloves, or barrettes.
Diaz said that the extras say a lot about a person.
"Someone can be sophisticated looking with a scarf and a barrette, or they can look cute and innocent wearing a beanie with flaps and matching gloves"
Silk Flower Knit Hat
Available at Forever21