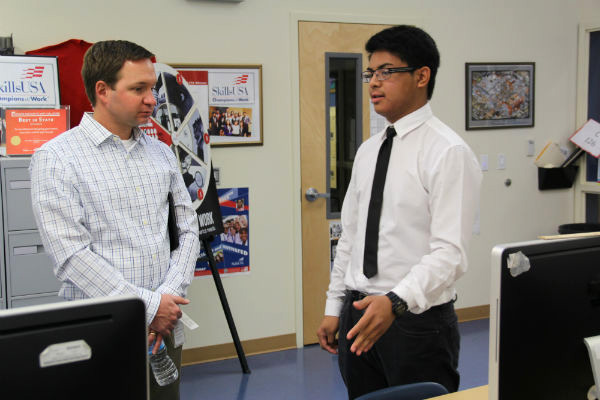 Principal Mrs. Felicia Nemcek, Assistant Principal Mrs. Donna Levy, and Community Partnership Coordinator Mr. Craig Statucki, conducted a tour sponsored by Apple that allowed 10 educators in Nevada to observe how an Apple Distinguished school functions.
"It is amazing to see students utilizing Apple products in almost every class. Most schools barely have any technology, let alone Macs," teacher at Alexander Dawson School Mr. Josh Keily said.
The purpose of today's tour was to show educators in the region what makes this school different from traditional public high schools based on the technology that is being utilized onsite everyday. Apple tours the school at least once every quarter to ensure their technology is being used properly.
"I have never seen students as disciplined as these ones. They are using their Apple products to the best of their ability in each class," teacher at Alexander Dawson School Mr. Jason Boldt said.
SWCTA was pronounced an Apple Distinguished for two years prior to this year, when Apple confirmed a two-year continuation for the designation. This designation will not need renewal until 2015.
"Tours like the one today is a great way of showcasing what happens at this school and it's wonderful that everytime I walk through and tour our school I always see different things each time and it seems like all of the students enjoy learning," Nemcek said.