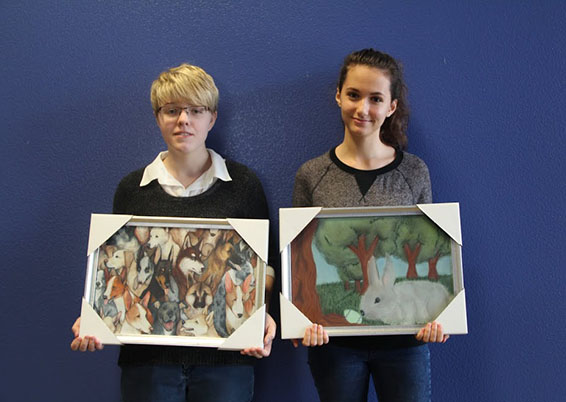 The Silver State Schools Credit Union's (SSSCU) 29th annual Happy Times Calendar contest winners were announced to the student body during first lunch today. Two students, junior Mariya Zlateva and sophomore Kristin Stanton, are featured in the calendar.
"It's our 29th year of hosting the contest and it's such a great way for them to express themselves in the calendar and showcasing their individuality and creativity in art," SSSCU Marketing Coordinator Krupa Kothari said.
The students received their original artwork framed, as well as extra copies of the calendar to share with friends and family. By winning the contest, they were each rewarded with $100 and an additional $100 towards the art program.
"I'd like to use the money for technology for the students to use to scan their artwork or to practice digital artwork. Something that we normally don't get to buy," Art instructor Jared Ogden said.
Anyone with an account at the credit union can purchase the Happy Times Calendar for $1 at any of the eight branches throughout the Las Vegas Valley. All funds raised from selling the calendar will be donated to a local charity.
"I was really surprised when I won, so it encourages me to continue doing what I'm doing and practicing my art," Zlateva said.
Zlateva's piece is located on the April 2015 page and Stanton's piece, "Dogs," can be viewed on the Sept. 2015 page.
"This has been a re-occurring contest in the past. I entered the contest in middle school and this is my first time winning. It's amazing and I feel very happy about it," Stanton said.