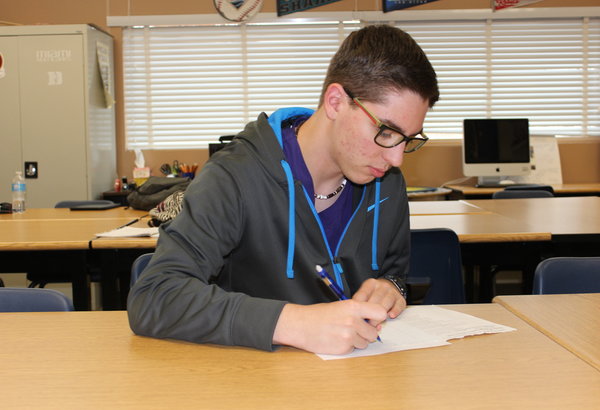 The 2015 Scholastic Art & Writing contest is now open for all students to enter. All student works will be sent to a local program, Southern Nevada Art/Writing Region, for judging at the regional level.
"I think this writing contest can be a great way for students to express themselves artistically outside of the English curriculum. I honestly think I might enter and compete," junior Brandon Villanueva said.
There are 28 different categories under art and writing for students to submit their work in. However, a student cannot submit the same work for two separate categories. In addition, the "Art & Writing Portfolio" category is only available to graduating seniors.
"I'm sure I would enter in a personal essay category since I think my strongest asset is writing something subjective and opinionated," sophomore Rhovi Naliponguit said.
Individuals who wish to participate must sign a submission form, pay a fee of $5 per entry and create an account to submit their work online. Students who cannot afford to pay the fee may fill out a fee waiver form to participate.
"I'm going to do the writing contest because I think it's an opportunity for students to express themselves in their writing," junior Linda Do said.
The deadline is 11:59 p.m. Eastern Time (ET) Dec. 17 and the contest results will be sent in via email on Jan. 7. The awards ceremony is scheduled to take place on Jan. 31 from 2 p.m. to 3 p.m. at The Springs Preserve. The exhibition, which will showcase the works, will be at the Big Springs Gallery from Jan. 31 to March 1.
"I plan on submitting a piece into the short story category. I am never confident in my work, but I feel this time will be different," junior Makaio Wakeley said.
Additionally, English 11 instructor Mr. Robert Davis is offering his students a chance to earn extra credit by entering in the contest. His students will receive 25 points for participating and additional extra credit points for students who receive recognition in the competition.
"The fact that we're getting extra credit points is enough motivation for me to want to enter in the contest," Do said.