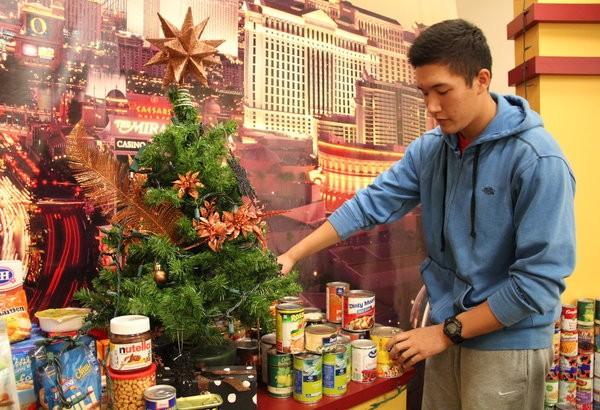 The annual food drive continues until Dec. 15. All food items collected will be given to the Salvation Army.
"Traditionally, the time between Thanksgiving and Christmas is when a lot of organizations sponsor food drives because people rely on those donations during that time period to carry them for the entire year. The club that sponsors food drive at our school changes every year and this year it's Students Council's year to run the food drive," Student Council adviser Miriya Julian said.
All seventh period classes are competing for an ice cream and pizza party with Student Council.
"I think the competition between the classes is a fun aspect of the food drive, but it's also really benefiting those in need," freshman Dawson Rush said.
The winners will be chosen by the average number of items brought in by each student, not by how many cans each class collects in total, giving each class an equal chance to win.
"The party is offered as an incentive because even though the food is for the homeless, the winners also deserve to be rewarded," Food Drive Committee Chair Mekha Omarimuhammad said.
Student Council members have been collecting the food items from seventh period teachers and bringing them to the Rout(e)131 studio to fill up the set.
"This is the definitely the most unique thing we've done with the food drive. Our goal is to fill up the broadcast set so that students can see how much they're donating and be motivated to donate more," junior Joey Harvanek said.
Students who wish to participate can bring nonperishable food items and give them to their seventh period teacher.
"The food drive is a great way to give back to those in need, especially because it's close to the holidays. The less privileged can't afford dinner and donating food is a way of giving happiness to them for the holidays," sophomore Shawn Wang said.