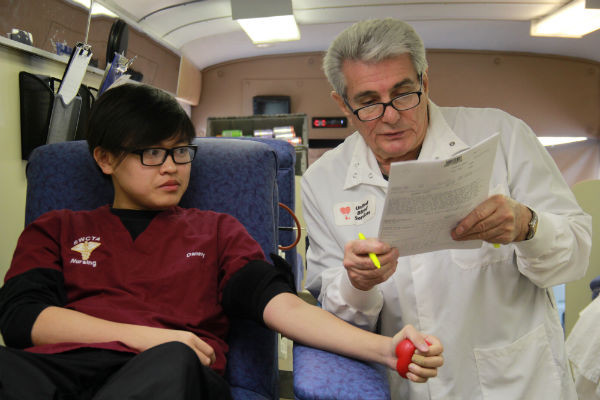 Organized by Mrs. Vicki Smith, the Blood Drive Mobile from the United Blood Services visited on Nov. 27 to accept blood donations from 31 student volunteers.
"This was my second time giving blood and it's good knowing I helped my community in a way," senior Kinsey Wagner said.
Volunteers had to meet the suggested requirements, pass the physical examination, and answer a series of questions related to medical history in order to be eligible to donate blood. In addition, the Blood Drive Mobile will take place again in early 2014.
"It was my first time donating blood. I did it because I wanted to give back to the community," senior Dominic Peret said.
The United Blood Services is a nonprofit community blood center that provides blood and blood products for local hospitals throughout the United States. By donating blood, students are playing a major role in advancing transfusion medicine nationwide.
"Giving blood not only saves someone's life, but one day may even say your own," Smith said.
Depending on the overall health of the volunteer, he/she either went through the process of the Whole Blood Donation, where blood is drawn and stored in a bag, or the Automated Blood Collection Method, which is when the exact components that the patient needs is collected.
"Giving blood is a little painful, but if it saves someone's life, then it's worth it," senior Joseph Alturo said.