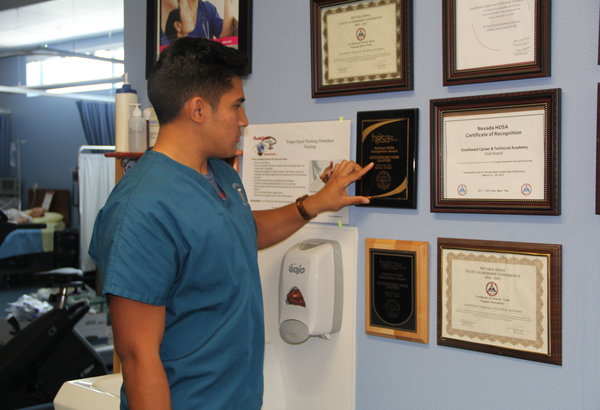 The annual HOSA Future Health Professionals State Leadership Competition was held at the Rio Hotel and Casino on Mar. 16-18, where 116 members attended the conference and participated in competitive events.
"We had an awesome presentation of students. We had about 77 students who qualified for the Barbara Jane Award, of which 20 or 30 students will be recognized at nationals for having over 50 hours," HOSA adviser Mrs. Vicki Smith said.
A total of 60 participants placed either first, second, third, fourth or fifth in their respective categories, such as Biomedical Debate, Pathophysiology and Medical Spelling.
"The students who place either first, second or third qualify to attend nationals in Anaheim on June 24 to 27. If students who placed in the top three decide not to attend nationals, they will be replaced by the students who place either fourth or fifth," HOSA President Maggie Yuen said.
The chapter was recognized for updating the newsletter regularly, being the largest chapter in attendance, being the largest local chapter and for completing a scrapbook. The chapter was also awarded "Outstanding Chapter" and "Nevada HOSA Happenings."
"This was my first time competing at state. I have to say it was really fun, even though I was nervous about how I would do in my competitive event. Overall, I am glad that I went, and I plan on going next year," sophomore Ayyoob Hussein said.
Four students ran for state office during the state leadership conference, one of whom was elected for an office position.
"When it was announced that I was elected into Post-Secondary Vice President, I was engulfed by a wave of emotions and feelings. I was excited, nervous, confident, and afraid. I knew that my achievement would open a whole new world that would give me the chance to fulfill my dream," HOSA Post-Secondary Vice President Andres Caja said.