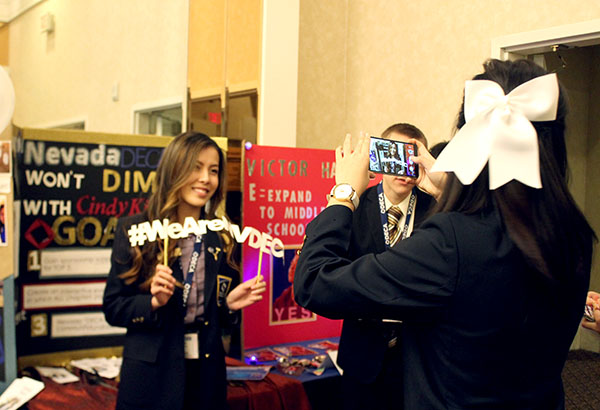 At the State Career Development Conference (SCDC) for the Distribution Education Clubs of America (DECA), 18 members received recognition for their work, 26 members qualified for the International Career Development Conference (ICDC) and two members were elected for state office.
"We were rewarded with a plaque for being the chapter with the largest overall membership and I'm not surprised because we've been the largest chapter since the second year the school has opened," DECA adviser Mr. Perry Annett said.
On Feb. 8, the first night of the conference, 28 chapters sat amongst each other during the opening session to hear about the opportunities offered to them while staying at the Flamingo Hotel and Casino. To conclude the session, the state officer candidates delivered their speeches.
"This was my second time going to state and I had even more fun. I even got to go on stage," junior Marlene Reyes said.
Competition day took place on Feb. 9 with the earliest role plays occurring at 9 a.m. Members who competed in an individual event participated in two scheduled role plays and team events were required to respond to only one role play. At the end of the day, a dance was held to celebrate the end of the competition.
"I expected it to be more automotive oriented, but it was more marketing oriented. It was pretty easy since I've been competing for the last four years. I qualified for both of my events," senior Giulia Cammareri said, who competed in "Automotive Marketing."
At the closing session on Feb. 10, the winners and the state officer team for the 2015-16 school year was announced. Cindy Kim is the new state president and Marcelle Cruzado is the new Vice President of Southern NV.
"Running for VP of Southern Nevada was such an emotional rollercoaster, but I'm glad I was able to gain the opportunity. I hope to make this year for Nevada DECA a memorable one," Cruzado said.
In addition, senior Valerie Cana announced her candidacy for international DECA office as Western Region VP.
"Running for international office allows me to enhance my own leadership capabilities. The one thing I'm most excited about is having the opportunity to work with the phenomenal individuals in this organization on this common vision," Cana said.
The following is the list of individuals/teams who were recognized at the awards ceremony:
Principles of Hospitality and Tourism (PHT)
Stacey Echevarria, 3rd place
Top 10 Finalists: Alexandra Canaveral, Keisha Dionisio
Automotive Services Marketing (ASM)
Giulia Cammareri, 3rd place
Buying and Merchandising (BTDM)
Top 10 Finalists: Kevin Camelo-Bonilla, Kerent Benjumia
Apparel and Accessories Marketing (AAM)
Valerie Cana, 3rd place
Top 10 Finalists: Shaelyn Dieter
Accounting Applications (ACT)
Top 10 Finalists: Christon Lena Gomez
Business Services Marketing (BSM)
Kevin Camelo-Bonilla, 1st place
Rediet Ayele, 2nd place
Human Resources Management (HRM)
Carly Taylor, 2nd place
Top 10 Finalists: Johana Mendoza
Restaurant and Food Service Marketing (RFSM)
Top 10 Finalists: Skyler Visser
Hotel and Lodging Management (HLM)
Top 10 Finalists: Cassandra Tipon
Sports and Entertainment Marketing (SEM)
Sabriya Said, 1st place
Financial Literacy Promotion Plan (FLPP)
Akane Height, 2nd place
Tonatiuh Gomez, Neil Montemayor, 3rd place
Hospitality and Tourism Operations (HTOR)
Top 10 Finalists: Marcelle Cruzado, Cindy Kim, Monica Gordon
Learn and Earn Project (LEP)
Giulia Cammareri, 2nd place
Community Service Project (CSP)
Mari Nishimura, 1st place
Top 10 Finalists: Hye Woo
Public Relations Project (PRP)
Allison Ho, Sabriya Said, Carly Taylor, 1st place
Ruth Belay, Isabel Argumaniz, Brittnie Truax, 3rd place
Entrepreneurship Participating- Creating an independent Business (ENPI)
Courtlynne Cowan, 3rd place
Top 10 Finalists: Victoria Fontanelli, Beatrix Cacao
International Business Plan (IBP)
Top 10 Finalists: Rebecca Live
Advertising Campaign (ADC)
Michelle Le, 2nd place
Sports and Entertainment Promotion Plan (SEPP)
Izeah Guiao, Michael Medeiros, Kenneth Wong, 2nd place
Top 10 Finalists: Marlene Reyes, Leonardo Castro
Fashion Merchandising Promotion Plan (FMP)
Danielle Frahm, Mariya Zlateva, 2nd place
Zowie Hart, 3rd place
Top 10 Finalists: Ghaylbreann Farrer, Ashley Javalera