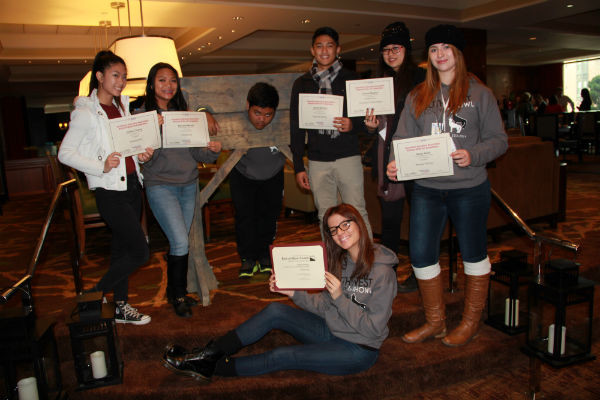 The annual fall JEA/NSPA conference took place from Nov. 13-17 in Boston, MA, a four day gathering of high school journalism students and advisors networking to share ideas and improve ways of writing and designing.
"Boston is so rich with culture, and our entire staff was amazed. You could just tell how happy everyone on the team was while we were there," sophomore Alexandra Nedelcu said.
While attending the convention, students met with representatives from colleges and universities, took part in specialized workshops ranging from yearbook design to journalistic writing style, and received advice from experienced journalists, writers, and advisers.
"It was a lot of fun to be able to meet with other journalism kids from around the world and share ideas and learn," junior Hailey Basner said.
Universities such as Kansas University and Boston University were there to speak with interested students, as well as a variety of yearbook and newspaper publishers.
"Attending the workshops was really helpful and worth it because I actually learned some valuable tips that I can apply on our own yearbook," senior Michelle Manuel said.
2,023 competed in the JEA write-off competition. SWCTA received five individual awards and also placed in the NSPA Best-in-Show category for their online news site.
"Because we placed in Best of Show again, it was so rewarding to just be able to win for all that hard work," Nedelcu said.
Best of show online publication: small school
Southwest Shadow – 9th place
Honorable Mentions
Tamara Navarro – Yearbook design layout
Michelle Manuel – Advertising
Jacob Berroya – Editorial writing
Excellent
Jenika Chiang – Newswriting
Sahar Kanfi – Review writing
In addition, the next JEA/NSPA conference, "Making Waves," will take place in San Diego, CA, from April 10-13. It has also been announced that the following conference held in Fall 2014 will be located in Washington, DC, from Nov. 6-9.
"It was my first time attending the conference and I absolutely cannot wait to go to the next one! Hopefully we win even more awards," sophomore Tamara Navarro said.