EDITORS NOTE: The staff of the Southwest Shadow would like to express our condolences to any families that were affected by the Route 91 Harvest Festival tragedy or know someone who was. We refrained from posting on Monday and Tuesday to allow our school time to grieve for an incident that has affected our home. We will continue to cover the tragic events of the Route 91 Harvest Festival as they pertain to our school community.
Due to the tragic shooting that occured at the Route 91 Harvest Festival on Sunday, all after school activities were cancelled on Monday.
"It was a horrific event and I still can't believe it," Assistant Principal Trish Taylor said. "As an administrator, we want to make sure all students are safe and if they needed help or if they were traumatized we want to provide them support if needed."
An email and tweet were sent out from the Clark County School District Communications office alerting parents and students of the cancellation.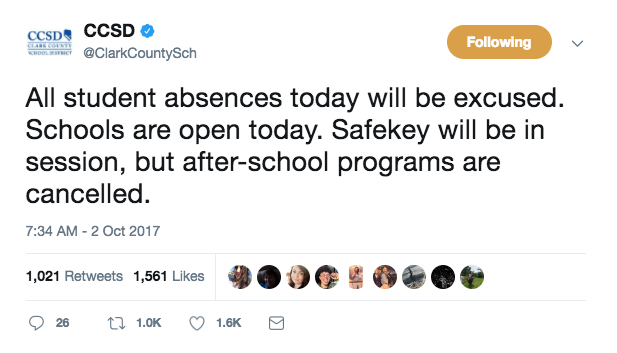 "With such a tragedy taking place hours before, I felt like canceling the meeting was paying respect to the lives that we're not only lost but also those who were affected," senior Jordin-Paige Valencia said. "I think it was more important to unite as a community and show our sympathy for our city than just going on with our daily lives like nothing happened."
All after school extracurriculars and clubs will continue tomorrow which include: Family, Career and Community Leaders of America, Medical Reserve Corps, Varsity Quiz Club, K-Pop Club and Cheer Club.
"I think that it makes sense that meetings were cancelled on Monday," English 11 teacher Laura Penrod. "We don't know what kids are going through and to get them to be at a meeting is not the right time when they could be dealing with bigger issues."
[poller_master poll_id="361″ extra_class=""]