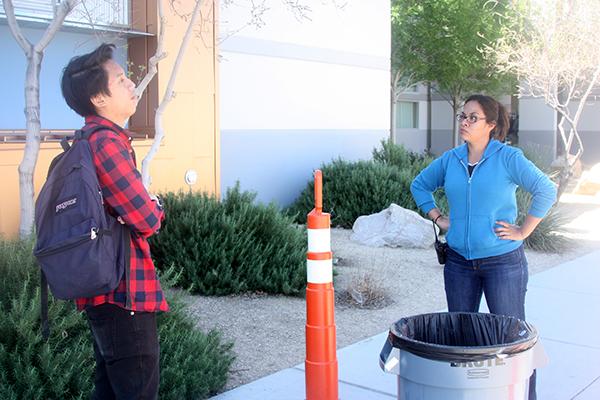 Due to loitering and classroom disruptions made by students during lunch, the administrative team will continue to place orange cones in the quad for the rest of the school year to restrict students from roaming around the campus during lunch time.
"The administrative team made this decision together, because supervision was a major issue. We're not trying to squash your freedom," Dean Mrs. Trish Taylor said.
The orange cones are placed so that students can still eat lunch outside, but not enter any of the main buildings.
"I think that putting up the orange cones has really made a big improvement, because there are no more students lingering around the campus and they now know not to pass the orange cones," Campus Security Monitor Ms. Michelle Lipkins said.
In the past, teachers have complained about students being loud in the hallways. The orange cones are an attempt to prevent further classroom disruptions.
"We try to give as much freedom as we can to the students, but when rules are disobeyed, this is what happens," Campus Security Monitor Ms. Mary Flores said.
Before the restriction, when students were allowed to eat their lunch in the hallways if they preferred, the administrative team and custodial staff noticed an accumulation in litter and a pest problem in the buildings.
"Most schools do the same thing. It's a standardized practice that other schools throughout the valley use and it's made the campus noticeably cleaner," Flores said.
Now that the orange cones have been used to limit students from passing the area, the custodial staff has seen an improvement in maintaining a cleaner learning environment.
"It really restricts where we are able to spend our time during lunch. I understand that it's for our greater good, but some people just want to be away from everyone else," sophomore Skyler Lao said.