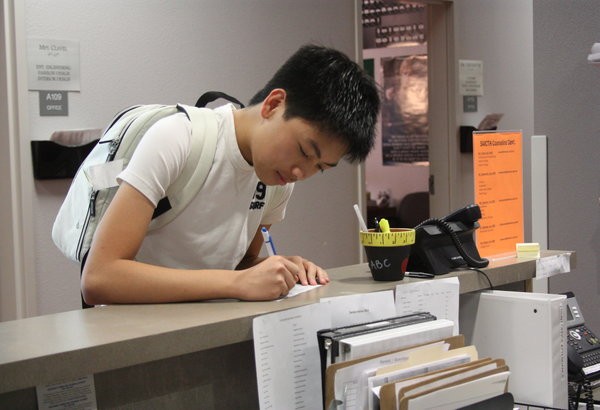 The administrative team is enforcing a new tardy policy for the 2014-15 school year that requires all students to be in class by the new 7 a.m. bell. Students are permitted two warnings before receiving a detention.
"I really felt that the previous policy didn't give you a warning and that was a necessary change," Dean Mrs. Trish Taylor said.
The previous tardy rule included that students who were late received a 30-minute detention from their first tardy.
"This policy was created as an effort to model employability skills," Principal Donna Levy said.
Now, once a student has received two tardy warnings, the third tardy will lead to a 30-minute after school detention followed by 90-minute detentions for the fourth and fifth strikes. Each warning will result in a phone call home and any additional tardies after a fifth may result in other punishments for disregard of school rules.
"In my opinion I think that the new tardy policy will be more effective this year. There really are times where students are late and try their best to rush to school. I like how they call parents and set you off with warnings because there are just some days you'll run late and parents are usually aware of that," sophomore Alyssa Tiangco said.
The administrative team revised the old policies by looking at similar policies created by other schools in the district.
"We found that the 30-minute detentions did not do anything for the students, so we decided to increase the time after the fourth tardy. Hopefully, they'll learn their lesson because an hour and a half is a very long time," Taylor said.
Detention is held in H136. Students serving detention are allowed to do homework or read a book without the use of any technology.
"I would have a very hard time serving detention because most of my homework is done with technology," junior Marissa Villarosa said.