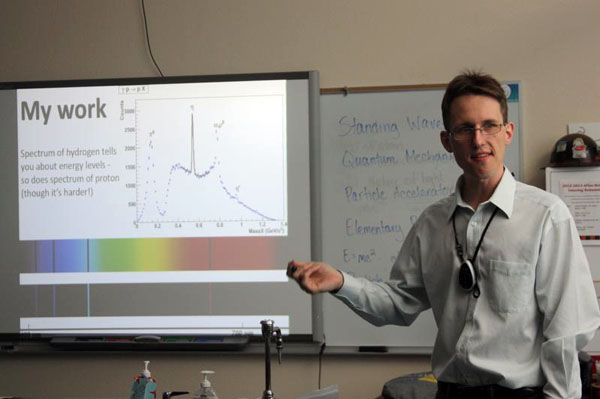 Physicists Bill Mullin and Ross Tucker visited Mrs. Elisabeth Williams physics classes on Apr. 11 and 12 to explain the concepts involved in quantum mechanics, the motion and interaction of particles of matter.
"Bill and Ross are extremely interesting. They give me hope that someday I will become as successful and involved as them. I'm so glad the Mrs. Williams managed to fly them to Las Vegas for us," junior Candace Kozell said.
During the Fall PBL in November, Williams signed her students up for Adopt-a-Physicist where she made contact with Mullin and Tucker. They contacted the students' through Edmodo and provided them with additional help for their PBL.
"I invited the physicists to talk to my students about what they do for a living and explain what quantum mechanics is," Williams said.
Mullin is a retired Emeritus of Physics professor at the University of Massachusetts-Amherst. He studies and teaches theoretical solid state and low temperature physics and received his Ph.D. at Washington University, St. Louis in 1965.
"The students surprised me! For such young people, they know so much," Mullin said.
Tucker is a student at Arizona State University studying particle physics and is trying to earn his Ph.D.
"I'm so glad I had the chance to talk to high school students. Their PBL concepts amazed me and I enjoyed presenting to them and answering their questions," Tucker said.
Mullin and Tucker explained a variety of concepts that dealt with their field of study and corresponded with the chapters on quantum physics in the physics curriculum that students were learning prior to their visit. They were able to answer multiple questions that students asked about quantum physics.
"I couldn't believe the amount of information we learned in such a short period of time. Bill and Ross's presentations really grasped my attention and made me view the physics world in a different way," junior Julia Wenzinger said.

Loading ...