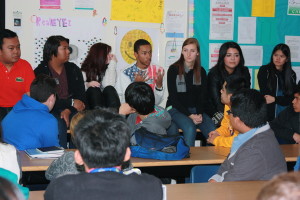 Freshman Studies teacher Mrs. Laura Penrod recruited three sophomores, two juniors, five seniors and six alumni to talk to the freshmen about their experiences thus far on Jan. 8 and 9.
"My goal was for students to be able to retain knowledge about their next years in our school and how college might be. I hope that they take the information they were given and will be able to use it whenever needed," said Penrod.
During each class period, the freshmen had a chance to ask the guest speakers about the difficulty level of each school year, college life, the great opportunities this school offers and much more.
"I learned from the alumni that going to our school provides a lot of great opportunities and if I stay here, it will be great in the long haul," freshman Marlene Reyes said.
All of the individuals Penrod gathered had a chance to tell the class what knowledge they have accumulated from the year present or their past years.

Loading ...
"Getting ready for the transition from freshman year to sophomore year and facing the fact that it is going to get harder will really help down the line," sophomore Andrea Pasic said.