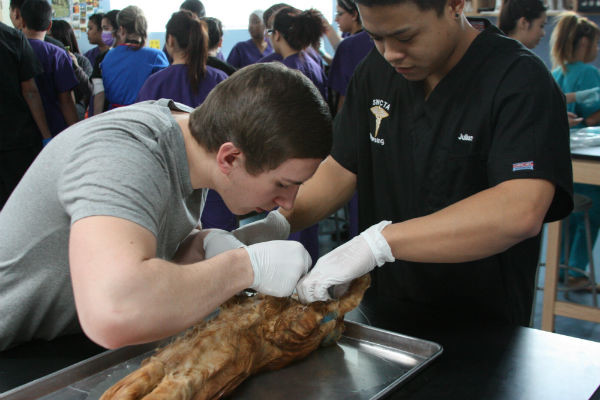 Students in Ms. Jennifer Conder's Anatomy and Physiology class began dissecting cats on Jan. 21 and will continue to do so until the end of third quarter in March.
"I'm excited to do hands on work and see how a cats body can compare to a humans," senior Feaven Tewolde said.
Students were arranged in groups of four, and are required to provide their own sterile gloves. First, they will be skinning the cat before identifying the muscles found in the abdominal, femoral, thoracic, and posterior surface regions.
"I am so excited to dissect cats. It's on my bucket list to see what it is like inside my favorite animal. I finally get to discover all the fascinating parts of a cat not just by pictures but dissecting the cat myself," senior Julius Sison said.
Prior to dissection day, students were expected to have watched the YouTube videos on Edmodo to help expedite the process of learning to dissect the muscles. The videos included: Cat Abdominal Region, Cat Femoral Region, Cat Thoracic Region, and Cat Posterior Surface.
"At first it was weird cutting into the cat and skinning it. It was a great experience to learn about the different organs and parts of a cat that is so similar to our own anatomy. It'll help so much in the medical field," senior Kinsey Wagner said.
The cats being used for dissections were donated to science from an unknown animal kill shelter. Once dissections are finished in March, students will be tested on their knowledge of the muscles found in the cat.
"Cat dissections gives the students hands-on experience to learn the anatomy of the human body through cats because they are most similarly related to humans. I choose not to use fetal pigs for this dissection because cats use their muscles more," Conder said.