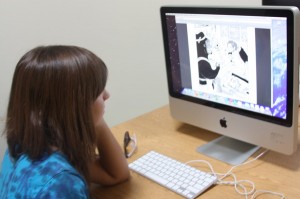 The second Anime Club meeting of the year was held on Oct. 30 in Mr. Kurt Bargy's room. Members discussed the chance of having a club t-shirt, ideas for the Sabakon 2013 in April, and the possibilities of holding a fundraiser.
"I've been interested in anime since the seventh grade and when I found out that there was a club at SWCTA during my freshman year, I decided to join and see what it was all about. I always have a lot of fun and I do plan on staying in Anime Club until the day I graduate from SWCTA," sophomore Zowie Hart said.
Members of the club have discussed the likelihood of designing and ordering a club t-shirt, but the only problem is a lack of funds. It's still too early to decide whether or not a fundraiser is necessary, but the t-shirts and fundraiser will be discussed in upcoming meetings, as well as ideas for the Anime Convention.
"In general, I love how this club gives everyone an opportunity to admire the beautiful art of Japanese animation. This particular meeting was especially fun because we all came together and watched anime which everyone laughed together and strengthened the friendship within the club. I wish all meetings were like this one," sophomore Andrea Galvan said.

Loading ...
Anime Club meets every Tuesday from 2:00 p.m. to 4:00 p.m. in room E128 and is open to anyone. For more information regarding Anime Club, contact the club advisor, Ms. Mary Flores.
"People should join Anime Club because it's a place where people can be themselves and always have a fun time with people who really "get" them; my goal is for these kids to be proud of themselves for being different," Flores said.