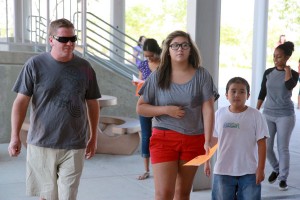 On Aug. 18, SWCTA prepared for the 2012-2013 school year by holding its fourth freshman orientation with a barbeque.
"I was really excited to see my friends again. Also, I really wanted to get/see my schedule," sophomore Cassandra Angue said.
During the orientation, only incoming freshmen were given their class schedules. Returning students will receive their schedules on the first day of school, but they had the chance to pay course fees and browse through various club booths, including DECA, HOSA, and Key Club, similarly to the freshmen. At the Journalism table, yearbooks were available for pre-ordering and school planners were also for purchase.
Teachers also used this opportunity to introduce themselves to their future students and their parents by informing them about the activities their children will engage in during their program areas and core classes. Also, incoming freshmen were able to meet current students and teachers to acquire suggestions/ideas on what they should expect during their high school years here at SWCTA.

Loading ...
"I'm always excited to see new students at the beginning of the school year," Assistant Principal Mr. Michael Butler said.
Student Council members also showed the incoming freshmen how energetic other students are by creating a flash mob for them.