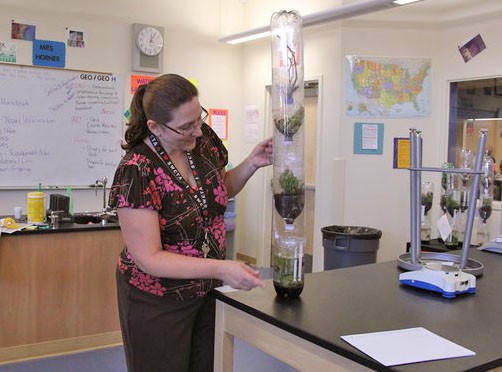 Mrs. Martha Horner's Advanced Placement (AP) Environmental Science students began building model ecosystems on Sept. 19 in order to help them understand the interactions inside an ecosystem.
"By doing this project, it will show students how our ecosystem will function properly without any humans interfering with the natural cycle flow," senior Carly Taylor said.
The project is leading up to the ecology unit, which is the study of the environment, living things and physical surroundings. The eco column consist of six different chambers, containing components that could be found in that ecosystem such as living organisms, water and biodegradable materials.
"The parts of the eco column are the aquatic ecosystem, the oxygen and air chamber, the terrestrial components, the decomposition chamber, the terrestrial chamber and the predator chamber," Horner said.
This experiment will take six weeks to complete. The time allotted to students allows them to make accurate indications with changes that occur in the system.
"All the ecosystems will sort of interact in the water, so if we did the experiment right we will see PH change, carbon dioxide levels change and we will also see traits in our nitrates change," senior Christen Gomez said.
The eco column experiment is also meant to prepare the students for their AP exam in May.
"The nitrogen cycle and water quality is probably one of the most talked about components in the AP test. So a lot of times, if they understand those water quality levels in their column, it will help them immensely on the exam," Horner said.