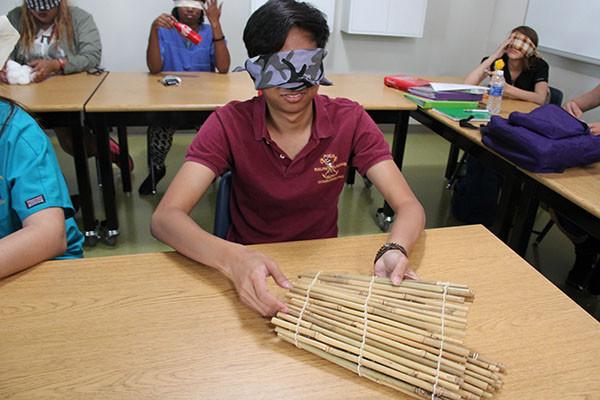 AP Literature students were blindfolded and asked to explore and identify non-visual objects of imagery using only four of their five senses: taste, hearing, touch, and smell on Sept. 17.
"I felt like I was able to see more than what I could with my eyes open. It was a wonderful way to learn," senior Joanna Joseph said.
Items such as glass objects, trinkets, and Tupperware containers were offered to the students to examine blindfolded and identify them using only their sensory skills. Additionally, the students listened to white noise to help drown out any background noise. White noise is a series of different frequencies of sound combined to help aid sleep and eliminate distractions.
"It was pretty weird not being able to see, but it was pretty cool to have to figure out what I was holding without looking at it with my own eyes," senior Brandon Belchar said.
AP Literature teacher Mr. Justin Orapello hoped the lab would help the students gain new knowledge of imagery to help them with their poetry unit.
"Normally, I don't do these types of assignments, so I really enjoyed being able to learn something a different way," senior Jared Ward said.
Now that they have learned to be open to non-visual aspects of imagery, the students will move on to analyzing poems on a collegiate level. Orapello also wants his students to use the knowledge learned from the lab when they begin reading novels in the spring.
"I'm hoping that from this assignment they will hopefully be applying their five senses when they are reading poems and writing them," Orapello said.