After the class plant named Mabel died, seniors Liane Cabrera and Kaitlyn Zhang decided to organize and host a funeral during AP Statistics teacher Bryce Wada's AP Statistics class. Because of the effort that students dedicated to create the event, Wada approved the funeral.
"Liane was originally the one taking care of Mr. Wada's dying plant," Zhang said. "When Liane couldn't revive the plant, we thought the best way to break the news to him was to make an announcement. We made a funeral service itinerary, which included a eulogy and scattering the 'ashes.'"
To mimic cremating the plant, Zhang decided to cut the leaves into pieces. Meanwhile, Wada and a few students spoke in the front of the class to give a speech about Mabel. The funeral ended with students dumping the shredded pieces off the catwalk.
"At first, I didn't realize the plant was real until someone pointed it out to me," Wada said. "I didn't really feel like doing anything, but I realized how upset students were that [Mabel] had died."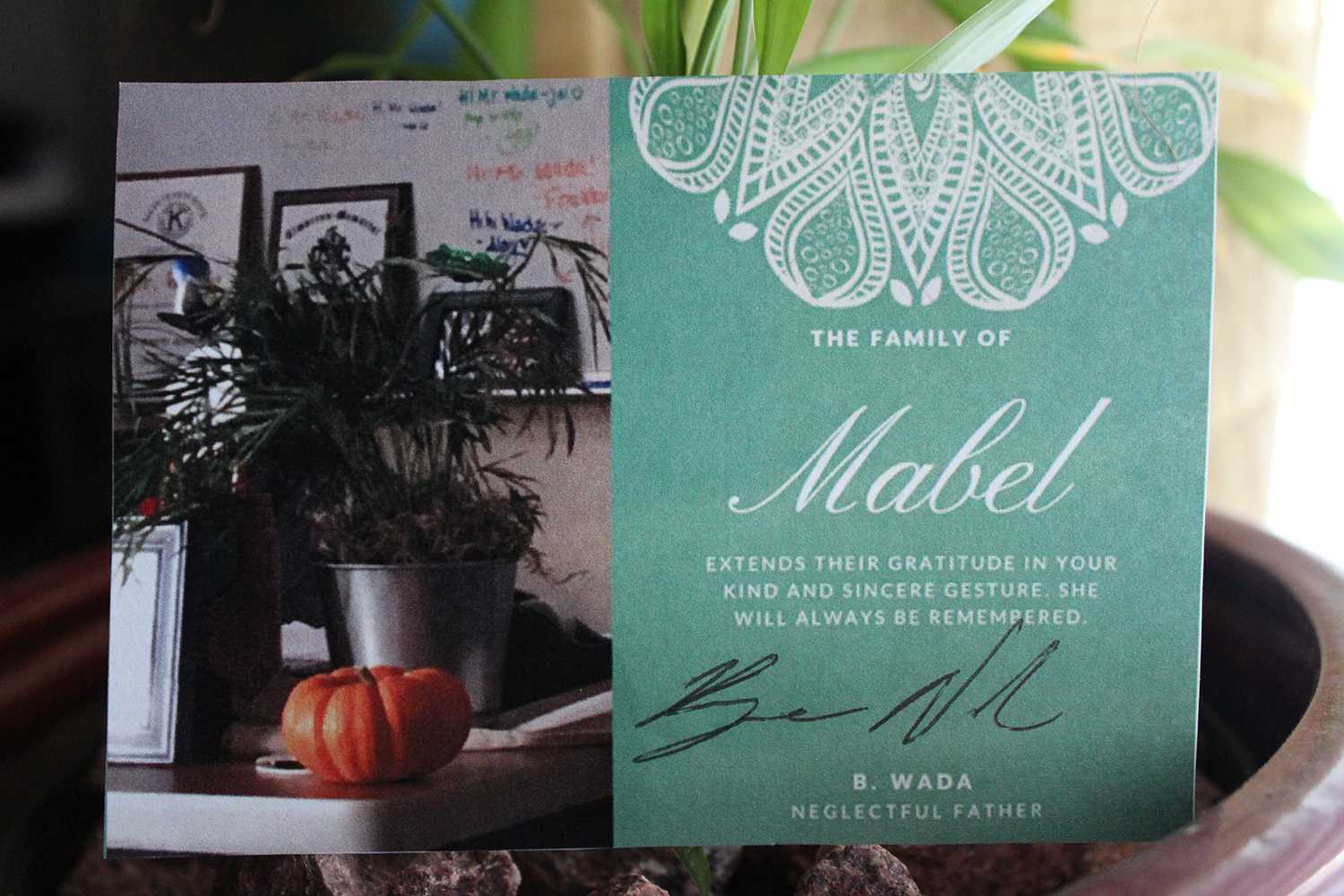 Mabel was a gift from Wada's veterinarian when his dog Peanut passed away. Earlier this year, Peanut was diagnosed cancer. After realizing that chemotherapy wasn't working, Wada and his family put their dog down.
"It's really quite emotionally stressed and tiring to one, lose a dog I've grown up with my entire life, and two, to come find out that this plant was not a fake plant," Wada said.
After Mabel's funeral, Cabrera and senior Franchesca Ngo surprised Wada with a new bamboo plant, which they named Dipper in honor of the cartoon series, Gravity Falls. Students placed Mabel's butterfly ornament next to Dipper.
"Bamboo plants tend to live longer than other plants if kept well, so I'm crossing my fingers [that Dipper will last longer]," senior Darmi Effo said. "However, Mr. Wada tends to forget things, so I think the bamboo might die unless a student cares for it."
[poller_master poll_id="422″ extra_class=""]