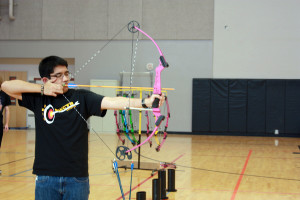 The Archery Club is participating in the upcoming National Archery State Tournament at the South Point Hotel and Casino on Feb. 7. Many schools have entered the tournament such as Churchill County HS, who perform well every year as the top scoring high school male, top scoring middle school participant and top scoring teacher in 2009 and 2010.
"I can't wait to participate in the competition and compete with people from different schools," freshman Jaden Bailey said.
During the tournament, there will be four different flights, or rounds, where as many as 60 students shoot together in a large arena, and each member will be assigned to one of four separate flights. Each student will shoot 15 arrows from 10 meters away, and 15 arrows from 15 meters away.
"I'm really excited to compete in the competition since I get to skip school and show off to everyone including my parents,"  freshman Max Mar said.
Afterwards, students can earn an assortment of awards, such as the individual awards for the top five male and female shooters. The first place male and female shooters will also win their own bow. SWCTA has done well in previous tournaments, as they achieved 1st place in 2010 and 2011, followed by last year's 3rd place overall.

Loading ...
"I am looking forward to the day of the competition to see how we compare to the other schools in Nevada. It is also a fun time for the students to get to meet other students from around our state with the same interest," Archery Club Adviser Coach Ann Kalenowicz said.
The Archery Club meets every Monday from 2 p.m. – 4 p.m. to practice in the gymnasium.