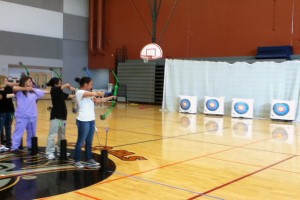 Coach Ann Kalenowicz and the Archery Team held their first meeting for the Archery Club on Oct. 15. The Archery Club meets between 2pm and 4pm.
"It's nice being able to release tension built up throughout the day by shooting arrows," sophomore Andrea Galvan said.
The Archery Team aims to promote a student's ability to focus leading to increased academic performance. They also try to relieve stress from daily school activities as students relax and enjoy the sport.
"The best part of archery is the moment you pull your bowstring back, as the arrow flows through your finger and  then you look at the target as the arrow hits it's mark," sophomore Joshua Deleon said.

Loading ...
An archery team is limited to having only 22 members, but Kalenowicz is allowed to have two teams, ergo in order to join the team, you would need to be one of the top 44 shooters in the club. An upcoming tournament is planned for February 2013.
"If you are interested in joining the Archery Club, you need to bring a signed insurance form which can be found in the partnership office in the B building or else I can't even let you watch," Kalenowicz said.