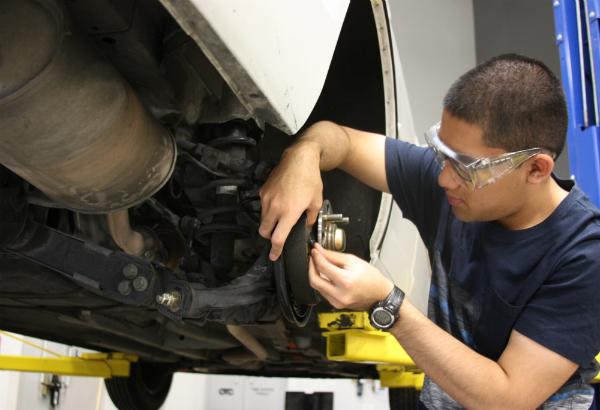 As part of its Automotive division of competitions, SkillsUSA hosted the regional qualifier on March 7.
"Events like these help students grow into leaders, team players, and help offset post-secondary education with scholarships," Automotive Technologies instructor Mr. Randall Raha said.
Beginning at 8 a.m., students from across the region took a multiple choice qualifier to determine who would advance into the next phase of the event, which tested their mechanical dexterity. The hands-on stage featured eight stations tailored to automotive aspects identified by Automotive Service Excellence (ASE), ranging from wheel alignments to electrical schematics.
"I appreciate how the stations were designed as a practice for life in the industry. ASE has a major role in the automotive field because it certifies technicians and lists the categories we need to know," junior Jarrod Orap said.
To represent the school, Automotive SkillsUSA President senior Brandon Saunders and senior Jedrey Ednacot progressed into the hands-on portion of the event. Students rotated through the stations to score points in the allotted time.
"From a young age, I have been intrigued with working on vehicles. From dirt bikes, cars, trucks, and even go-karts, the school has really helped me pursue my interests for not only potential jobs in the future but even in just tinkering on cars after school. You get really nervous when the competition first begins, but then you resort to the training you've received. I'm planning on training myself by covering every system possible in a vehicle." Saunders said.
After collecting the net worth of his scores, Saunders earned an 11th place finish, securing a position in the upcoming state finals.
"Many people think that they are good at something but are too afraid to compete. I'm glad that I took that extra step to separate myself from everyone else and get my name out there. I can only hope that companies will appreciate this extra step that I took when it comes to applying for jobs," junior Skyler Lao said.