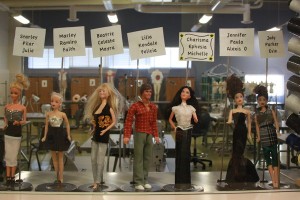 Mrs. Cassandra Pawling's Fashion Design Construction Juniors recently finished creating an outfit for Barbie and Ken inspired by the next fashion trends for the fall 2013 season.
"I like having the students compete because it gives them a realization about the real life fashion world. The fashion world is full of competition," Pawling said.
The fashion students spent weeks watching runway shows which provided the students perspective for the next fall trend. The students were allowed to use any materials available or even their own materials to create the garment. Sewing was not mandatory for this project, which meant that they could tape, glue, or even staple the outfits together.
"This project was really interesting. It was nice to apply what we learned about fashion trends onto a Barbie. When I was younger, I played dress up with my Barbies all the time. Who knew I would end up making an outfit for Barbie?" junior Amber Samiano said.

Loading ...
Pawling and seniors Jennifer Gregario and Sara Guiang will be judging the projects. The winners will have their Barbie or Ken displayed in the window facing the E building hallway for display. The winning students will also receive their own sketchbook.
"The displays of the Barbies are really interesting. It gives a good sense of what the students' in fashion can do and also a feeling of what girls might be wearing for fall this season," junior Julian Pascual said.