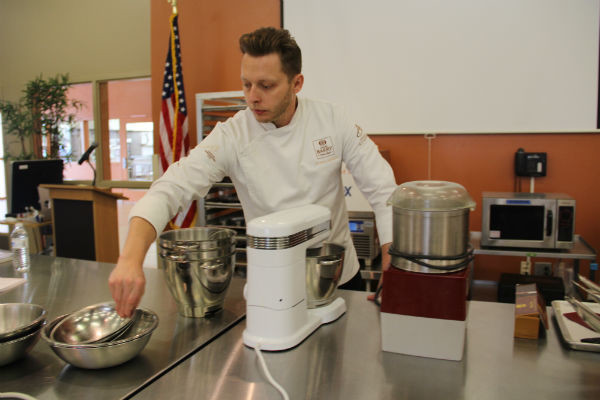 The Corporate Chocolatier from the Barry Callebaut Chocolate Company, Jérôme Landrieu, performed a demonstration of his skills in the Coyote Ballroom from 2 p.m. to 5 p.m. on Apr. 2. This event featured roughly 50-70 top pastry chefs in attendance, as well as students.
"I'm really looking forward to seeing Vincent Pioon. It's amazing to be able to see a chocolate master at work," Chef Sandra Mallut said.
Landrieu and his crew presented a brand new line of chocolates especially made by the company using a new technique: The fermentation method. Landrieu demonstrated the making of various chocolate molds, discussed new chocolate recipes, shared his tips and techniques and answered questions.
"Everyone who came learned new techniques and were exposed to a new generation of chocolates, recipes, and my techniques and tips," Landrieu said.
The demonstration was meant to be held at the Caesar's Palace before a referral was made by Mallut when asked for suggestions by the National Sales Director of the company. This is the first time the company has hosted a demonstration at a high school.
"This school is very modern and high tech, which is good for us as a company to host our demo here because there is a lot of space and equipment," Brand Manager Alexandra Ube said.
The Barry Callebaut Chocolate Company is the world's leading manufacturer of high quality chocolate and cocoa products. Chef Jérôme Landrieu is the Director of the Barry Callebaut Chocolate Academy in Chicago and was the Dessert Professional's 2011 Top 10 Best Pastry Chefs.
"The most important thing here is if they can use what I taught them and apply it to their everyday production," Landrieu said.