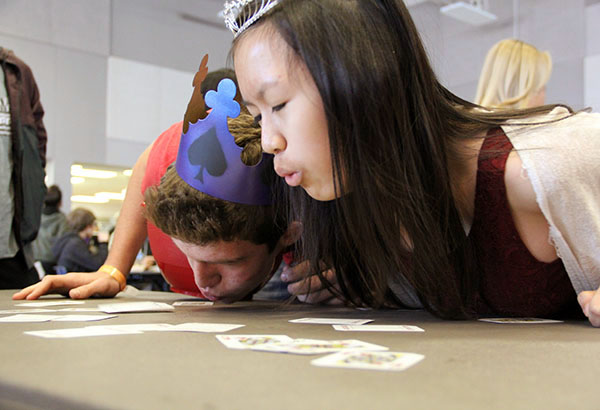 On the third day of the Battle of the Sexes, the boys triumphed against the girls in both lunch games. Before the end of the school day, the score for the boys and the girls was 90 points.
"My favorite part of Battle of the Sexes are the games. Playing dodgeball with my friends and finding out we made it to semi-finals after starting the day with only three teammates was unbelievable," senior Igor Jovasevic said.
The object of the lunch game was to blow all of the face-down cards off the table, leaving the Queen of Hearts cards face-up for the girls and the King of Spades cards face-up for the boys. The winners from each game earned 10 points for their sex, a deck of cards and candy. Also hosted during lunch, the trivia contest consisted of two rounds and the winners received 5 points for each correctly answered questioned.
First Lunch
Game winner: Senior Konstantin Aleksandrov
Trivia round 1 winner: Boys
Trivia round 2 winner: Boys
Second Lunch
Game winner: Freshman Rodney Krantz
Trivia round 1 winner: Boys
Trivia round 2 winner: Girls
"The games reflect the theme pretty well because each one revolves around a type of game. It really does capture the essence of the 'Game On!' theme," Student Council member Brittany Grossi said.
At the dodgeball tournament, all male and female teams competed against their own sex to determine the top four teams for each sex. The eight winning teams will compete against each other in the final round tomorrow in the gym from 2 p.m. to 4 p.m. to determine the top team for each sex.
Boys
Young Yagas
Savages
Bombaclot Bandits
Jebaci
Girls
Honey Dipz
Dijibowti
Savages
The Floms
"The dodgeball game was really good today, we made it into the final four and I'm so proud of my team. There is really good competition this year and we're having a lot of fun," junior Ruffa Fortin said.
In addition, the "Game On!" themed spirit day today was "Queen of Hears vs. King of Spades." Tomorrow's spirit day is "Mathletes vs. Athletes."
"The spirit days are really fun because they're both easy to dress up for. Plus, you can choose which one you want to dress up for," Senior Class President Lisa Blais said.