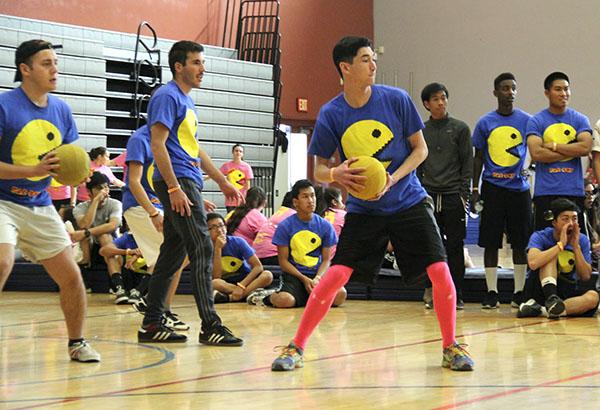 The fourth day of the Battle of the Sexes ended with the girls winning both lunch games and the boys winning the final dodgeball game. Boys ended the day with a score of 160, while the girls follow behind with a score of 140.
"It's anybody's game right now; we have to assembly to work for. It's never too late to come back and there is always next year to crush the girls," sophomore Shawn Wang said.
The lunch games consisted of a triathlon with the objective of running up to the stage and blowing 10 cups off a table with air from a balloon after blowing it up. After completing the first part of the challenge, participants then stated what PEMDAS (parenthesis, exponents, multiplication, division, addition, subtraction) stands for.
First Lunch
Game Winner: sophomore Danielle Johnson
Trivia Round 1 Winner: Girls
Trivia Round 2 Winner: Girls
Second Lunch
Game Winner: junior Ruffa Fortin
Trivia Round 1 Winner: Boys
Trivia Round 2 Winner: Girls
"I don't really know how to blow up balloons, but luckily those were easy to blow up. It was a lot of fun and I enjoyed competing and winning for the girls so we could get ahead in the Battle of the Sexes," junior Ruffa Fortin said.
The final dodgeball game was held in the gym from 2 p.m. to 4 p.m. with the "Honey Dipz" representing the girls and the "Savages" playing for the boys.
"Even though my team almost lost one of the rounds, I still had fun and we ended up winning as a bonus," junior Jensen Sassone said.
In addition, the "Game On!" themed spirit dress day was "Mathletes vs. Athletes." Tomorrow's spirit day is "Pink vs. Blue."
"Lots of students participated, and I think the student body enjoyed having the freedom of a non-gender-specific versus day," Student Body Class President Rachel Martinez said.