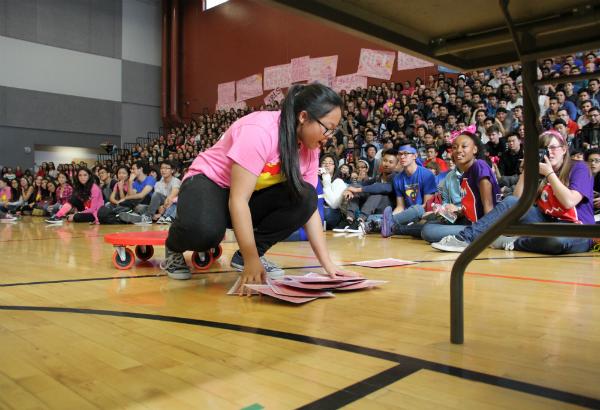 Battle of the Sexes week concluded with the annual assembly where the boys won for the fourth consecutive year with a total of 355 points.
"The lunch games, after school games and activities during the assembly attribute to which sex wins the Battle of the Sexes," Student Council adviser Mrs. Miriya Julian said.
Throughout the week during lunch, students were able to guess how many skittles were in the jar. Senior John Paleracio guessed correctly with 1768 skittles. In addition, pairs from each sex competed in the lunch games, where one participant wrapped the other with mummy streamers in the shortest time possible.
First round winner: Boys
Winners: Freshmen Rodney Krantz and Bryce Nass
Second round winner: Girls
Winners: Sophomore Elisa Cahatol and junior Desiree Galera
"I was nervous because the boys team was wrapping faster, but in the end we still won it for the girls," Cahatol said.
During the assembly, participants competed in "Game-On" themed activities, such as a Pac-Man marshmallow-eating race, "Heads Up!" featuring video game characters and "Trivia Crack" with categories such as theme songs and board games.
"Even though I hate marshmallows, I would totally do it again just to get a chance to get my revenge on the boys," Galera said.
In addition to the various gaming events, the Polynesian Club and Coyote Cheer Club performed routines that they have been practicing throughout the school year.
"We practiced a lot and I'm happy with the way our performance went and I'm also very proud of everyone who performed," senior Aundie Soriano said.
Male and female teachers went head-to-head and performed their choreographed dances. The girls team consisted of Ms. Grace Chang, Ms. Tawanna Ervin, Ms. Elaina Nelson, Ms. Cathy Sabol, Ms. Jacqueline Stroup and Ms. Maria Terada, and the boys team consisted of Mr. Jared Ogden, Mr. Gordon Thomas, Mr. Nathan Jayme and Mr. Jeffrey Ball. The victor was determined by applause, and the girls snagged the win.
"I was really surprised by the teachers performances. Especially the boys, they really went all out," junior Benedicte Rubangara said.
Teacher royalty was determined by which teacher accumulated the most votes throughout the week by means of the online voting system. However, this year, each side won 10 points for each nominee of the respective sex that won in each category.
Most Likely To Be A Game Show Host: Mr. Dennis Goode
Most Likely To Be A Billionaire: Mr. Pate Thomas
Most Likely To Win The Hunger Games: Mr. Matthew LaPorte
Most Likely To Win Jeopardy: Mrs. Jennifer Brant
"I was really happy with the response from the students! I think they enjoyed the games! The assembly commission took a more interactive approach when planning this assembly—we wanted to involve the audience, and I think we hit our mark," Student Body President Rachel Martinez said.