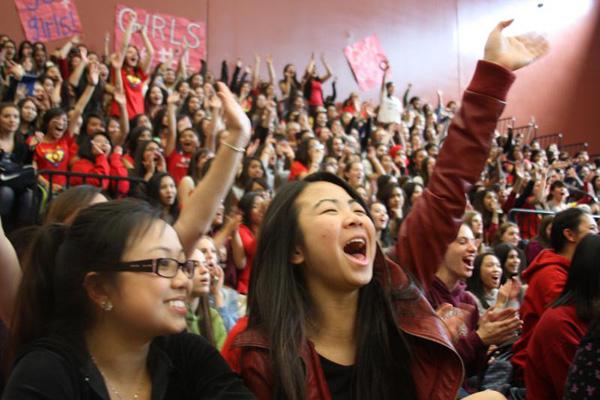 The girls won the 2013 Battle of the Sexes competition for the first time this afternoon.
"I feel pretty good to have been a part of this year's Battle of the Sexes now knowing that the girls have had our first BOS win," junior AhnaMia Maranon said.
Although the girls lost all of the after school games, such as kickball and dodgeball, they still managed to win the overall competition by winning each game during the assembly.
"To be honest, the way the boys played during the after school games, I did not see this loss coming," sophomore Bryan Aromin said.
Seniors Roselie Cahatol and Jamie Fajardo beat Zack Pinion and John Morales at the Nutella game, giving the girls the first win of the assembly. Other games included a hula hoop competition and a relay race.
"I am so proud of all the girls this year. It was obvious that we had more team spirit than the boys. Hopefully we continue winning the Battle of the Sexes," junior Andrea Salazar said.
Besides the girls winning the competition, there were many performances between the games. Mr. Nathan Jayme, Mr. Michael Moore, Mr. Jonathan O'Brien, and Mr. Mark Bellanger performed a YouTube inspired skit and Mrs. Elaina Nelson, Ms. Krista Bovie, Ms. Grace Chang, Mrs. Shannon Bailey and Mrs. Laura Penrod danced and lip-synched for their performance.
"Ms. Bovie did a very cute job, I loved seeing her perform with so much confidence," junior Angela Nicolas said.
Not only did the teachers get to perform, but the SWCTA Polynesian club and the Cheer Team also performed.
"I was very nervous and shy to perform in front of my whole entire school but when I got on stage, I was thrilled and so excited to have this opportunity," Polynesian Club member Gabbi Valerio said.