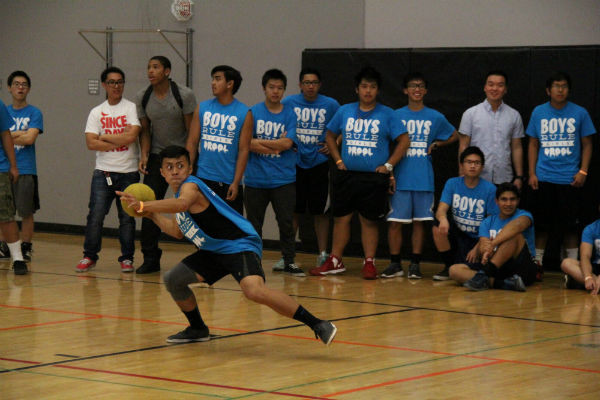 The Battle of the Sexes continued today with spirit day, lunch games, and a final "boys versus girls" dodgeball tournament held in the Coyote gym. The boys are currently in the lead with a score of 159, while the girls have a score of 140.
"I like that we have Battle of the Sexes; that way, I have a team to cheer for and I can stay after school and root for them to win!" sophomore Leslie Tran said.
To determine the team that would best represent the boys and the girls, teams on the boys and girls were given three chances to win two out of three games against each other. The following championship teams competed in the final dodgeball tournament:
Boys
#winning (WINNERS)
Girls
Powerhouse
"It feels good to win! It was interesting to have to play against the girls, and I had a lot of fun," junior Christian DelRosario said.
In addition, today's lunch activities consisted of "Battle of the Sexes 90's Trivia" and "Guess how Many?" Students were quizzed on TV shows, music, movies, and more.
"It's nice to be remembered of the 90's. It's like remembering your childhood and everything that you used to watch and listen to," sophomore Alyssa Bui said.
The spirit day today was Leather vs. Denim and tomorrow is Pink vs. Blue. Below is the modified bell schedule for tomorrow, due to the Battle of the Sexes assembly.
Period 1: 7:00—8:05
Period 3: 8:10—9:20
Period 5: 9:25—10:30
Lunch: 10:30—11:10
Period 7: 11:15—12:30
"I'm pumped to represent the girls team tomorrow! Anything and everything PINK!" Student Body Historian Rachel Martinez said.