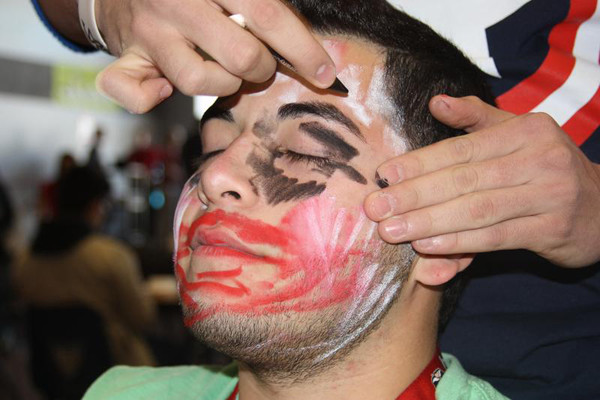 The first Battle of the Sexes lunchroom competition was the Joker Competition where partners had to paint each others faces without looking on Monday.
"I am excited for this spirit week and the guys will definitely win against the girls," freshman Isaac Landis said.
Whoever had the closest resemblance to the Joker from the movie "Batman" won the competition. By the end of the round, seniors John Morales and Zachary Pinion won against Jamie Fajardo and junior Ahnamia Maranon, earning 15 points for the boys in first lunch. While in second lunch, the girls were victorious when seniors Josephine Baltazar and Le Mai won. The winners in each game were decided by the volume of applause by the lunch crowd and each win added 15 points to the victorious gender.
"I felt like I had been the Joker and we clearly won; the girls just had to be louder when screaming," Morales said.
This week's remaining games include: Superhero Bangs, Aquaman Chug, Musical Chairs, and Flash Stack.At the end of the week, the points will be added and whichever gender has the most points will win the lunchroom games. The Battles of the Sexes week is in preparation for the upcoming Sadies Hawkins dance promoted by the Student Council.
"We do lunch games to get them excited for the dance. The competition is meant to be friendly, but the students seem to be competitive," senior Katelyn Hendricks said.