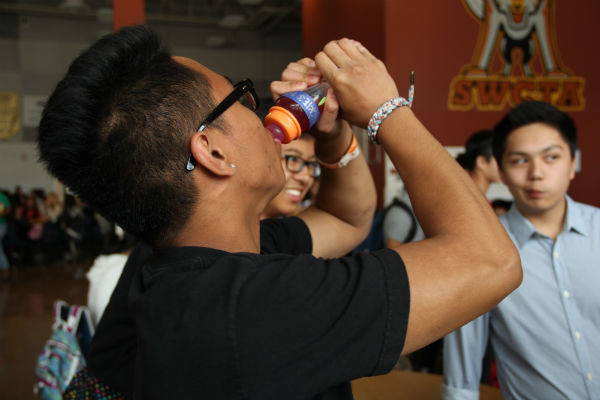 On the third day of Battle of the Sexes, the girls triumphed over the boys in today's lunch games. Before the dodgeball tournament, the score for the girls was 116 with the boys at 105.
"I'm so glad I did Battle of the Sexes. It's a lot of fun," sophomore Linda Do said.
The goal for the lunch activity was drink Gatorade the fastest out of a sippy cup. The girls won the activity during both lunches today.
"Teamwork was a big tool for the game. There were three of us including me, Ashley Rowland and Kathleen Jaictin were my teammates. As soon as the guys lagged behind me, I knew the girls would win," junior Trixia Delarosa said.
Along with the lunch activity today, it was also "Scrunchies versus Spikes" day. Girls were encouraged to wear scrunchies, whereas the boys spiked their hair.
"I loved being able to spike my hair today because I always wear it flat. I enjoyed the new hairdo," junior Joseph Bisacky said.
The spirit day tomorrow is leather versus denim. The girls are expected to wear leather and the boys should arrive to school in denim.
"I am so excited to wear my leather jacket tomorrow and compare it to the boys denim! We will win again," senior Fatima Boumelhem said.
In addition, scores for the dodgeball game will not be announced until after the final dodgeball tournament, which will take place tomorrow in the Coyote Gym.
"I can't wait to see it all go down tomorrow! There is a lot of competition and it's going to be interesting," sophomore Alyssa Bui said.