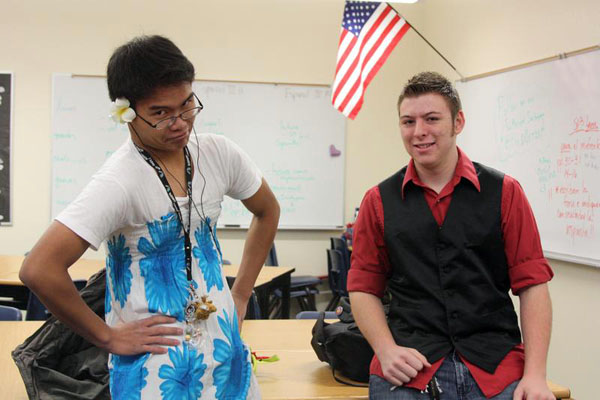 Because the theme of the Sadie's dance was "Super Sadies," Student Council organized a superhero themed spirit week to lead up to the dance.
"I liked the theme for the dance this year because it was a very creative topic that everyone enjoyed," sophomore Hilina Tefera said.
Although the main theme for the week was girls vs boys, there were a few neutral days. Monday was Marvel vs DC, Tuesday was Dress vs Vest, Wednesday was Bows vs Ties, Thursday was Kings vs Queens and Friday was Red vs Blue.
"I would have to say my favorite spirit day was King vs Queen day. I loved walking around in a long flowing robe with my scepter, which was just a big curtain rod," sophomore Jared Hunter said.
Throughout the week, there were also lunchtime spirit activities as part of the Battle of the Sexes competition, such as "Joker Face," "Aquaman," and "Musical Chairs." During "Joker Face," students had to paint their faces to look like the Joker and whoever did the best job won. For "Musical Chairs," volunteers had to sit on a chair before the music stopped and the last individual in the game won.
"My favorite lunchtime activity was Joker Face because it was really funny to see the colorful paint on their faces," sophomore Delaney Sargent said.

Loading ...
To end the spirit week, classes were shortened for an assembly, where after a two-year losing streak, the girls were announced as the winners of the Battle Of The Sexes.
"The assembly was a perfect way to end the day because everyone enjoyed the different activities, such as the hula hoop and the teachers' dance performance," sophomore Eleni Bazezew said.