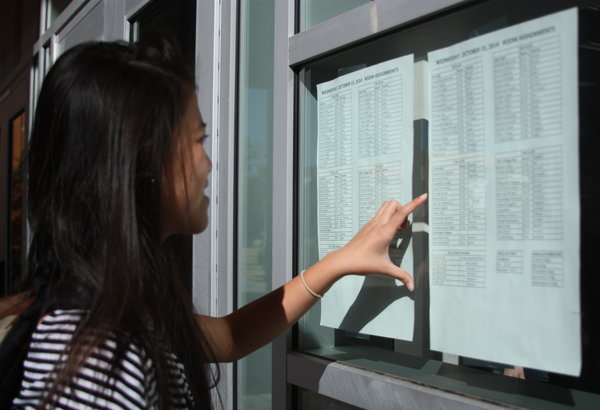 Sophomores and juniors will be taking the Preliminary Scholastic Aptitude Test (PSAT) on Oct. 14. Testing will take place from 7 a.m. to 10:30 a.m. All students will participate in a single lunch break and then report to their "A" day classes for shortened periods.
"The scores of the PSATs don't have as much of an impact as the feedback of strengths and weaknesses, and the College Board takes it a step further by creating a customized study guide for each student," Lead Counselor Mrs. Paige DeSantis said.
Students are allowed to bring pencils, erasers and approved calculators to use on the test. Approved calculators are only allowed during the match portion of the test.
"It's my first time taking the PSATs so I'm not quite sure what to expect, but the booklet I received from the counselor helped me prepare," sophomore Carmen Nieto said.
The National Merit Scholarship Program is offering scholarships to juniors taking the PSATs. Only the top 50,000 scoring students in the nation will be considered for the scholarship.
"I got a really high score on my PSATs as a sophomore, so hopefully I will repeat that. I studied a little over the weekend and I feel like I'm prepared," junior Khloe Faira said.
Finalists will be eligible for the National Merit $2500 scholarship, corporate-sponsored Merit scholarship awards and college-sponsored merit scholarship awards. Semifinalist Clark County School District (CCSD) schools for 2015 include:
"The scholarships motivate me to get the best score I can to obtain financial benefits that will help me through college," junior Andy Landaverde said.
Freshmen and juniors who are not taking the PSATs will be participating in a mini-PBL, while seniors will be attending seminars for College Day. Design Academy freshmen will be researching a topic of teen interest, Professional Academy freshmen are working on a survival guide for a recently completed PBL and juniors will be working on a college research PBL.
"PBLs are pretty fun to do, especially when there is an interesting topic like the biggest risks teens face today. I'm looking forward to it," freshman Victor Taksheyev said.