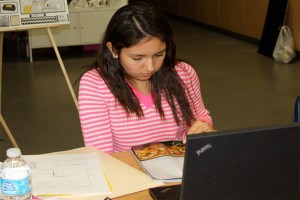 Interior Design seniors started constructing a blueprint for a 2-story apartment building on Nov. 26 as their senior capstone.
"I am enjoying this project because I get to use many different programs to create my final presentation that I will get to showcase in April," senior Anabel Avalos said.
The interior design seniors must create a 3D model of the blueprint and furnish it using Chief Architect. During the course of this yearlong project, students will apply their knowledge of color blends, spatial awareness, and add the principles of design.
"I'm helping the seniors by giving them clues along the way to guide and direct. I've also arranged several tours/field trips to give the students real world experiences, and to help them see refurbished downtown projects," Interior Design Program Leader Mrs. Alisa Sirat said.

Loading ...
In April, the students will present their final product downtown at the World Market Center, in front of fellow classmates, architects, and designers. Each student will have the opportunity to showcase their final blueprint.
"Having the feeling of accomplishment and knowing that all of my hard work payed off is what I am waiting for when I get the chance to present my project," senior Leslie Frausto said.