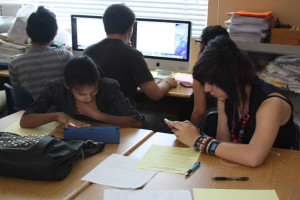 Ms. Krista Boivie's AP World History classes will be holding a potluck at 2:30 on May 15. All of Boivie's AP World History students are invited and are welcome to attend.
"I'm holding the potluck the day before their AP exam so that they get a chance to relax before the test. It signifies the end of all of their studying and preparations," Boivie said.
Students are encouraged to bring a dish to the potluck to share and watch a movie. This is an opportunity to unwind before the upcoming AP World History Exam.
"We've been so busy lately, the potluck is a great distraction," sophomore Kathleen Jaictin said.
The potluck will be held in Boivie's room, C220 until 4pm. The students are free to bring whatever items they want, and the potluck is limited to Boivie's AP students only.
"I've been prepping for the exam for weeks now so I think this is a great chance for my friends and me to relax before Thursday," sophomore Tara Eskic said.

Loading ...