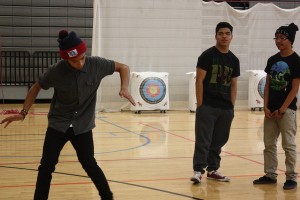 Break Club held their first meeting in the gym on Nov. 27.
"Break Club is really fun because we could hang out with our friends, learn off of each other, and gain more experience," freshman Alejandro Quinonez said.
Members will learn dance routines and participate in various events, such as Coyotes U-Nite, assemblies and the school talent show.
"My ultimate goal would be to create an inter-high school break-dancing league where students battle against students from schools all around Clark County," Break Club Adviser Mr. Jonathan O'Brien said.
A medical permission form and athletic insurance waiver must be completed in order to join. For more information, visit the Community Partnership office.
"In Break Club, we can express how we feel about breaking and show off our style," freshman Juan Duarte said.

Loading ...