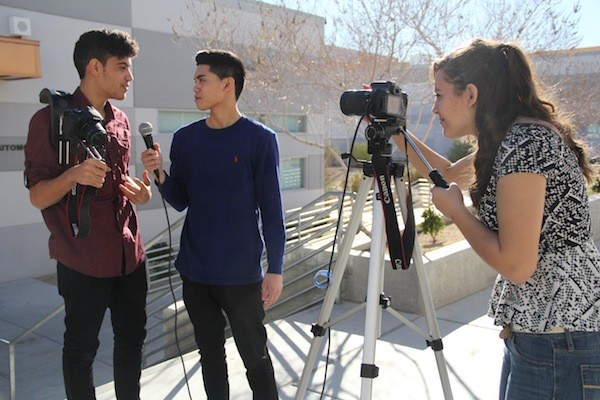 The 12th Annual Clark County School District Broadcast Journalism Awards Festival was almost cancelled this year do to a lack of funding.
"Not only were my broadcast students upset that the award ceremony was going to be cancelled, but I was upset too. We looked so hard for funding and donations, but everyone turned their back to us," Broadcast Journalism teacher Mr. Tom Rizzo said.
At the last minute, students found a company to fund the award ceremony, senior Valari Esposito's father's company Medical Lien Management Inc.
"I have been a part of the broadcast awards for the past two years, so I am really excited that I get to attend again for the last time," senior Valari Esposito said.
For the first six years of the festival, Career and Technical Education (CTE) provided funding. The years after that were sponsored by local news stations.
"I'm thrilled that the broadcast awards are going to take place this year. I can't wait to win first place in the Best in Show category," senior Candace Kozell said.
There are 10 categories total, but two to three may be eliminated. Previous participating high schools in the valley for the festival are:
Advanced Technologies Academy
Bonanza High School
Coronado High School
Desert Pines High School
East Career and Technical Academy
Foothill High School
Green Valley High School
Liberty High School
Southwest Career and Technical Academy
Northwest Career and Technical Academy
Palo Verde High School
Shadow Ridge High School
Spring Valley High School
West Career and Technical Academy

"It's a good thing we found a company to fund the ceremony. For most of my broadcast students, this is their last year competing," Rizzo said.