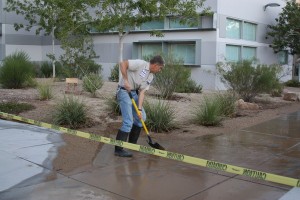 Last night, a pipe was blown in the irrigation system causing major flooding in front of the D and E buildings.
"I'm surprised that a broken sprinkler did that much damage. The concrete in front of the D and E buildings were muddy and flooded. I thought the rain caused the water buildup," junior Selma Mesic said.
Students who had classes in the D and E buildings had to use the back entrances into the buildings. Teachers in these buildings requested the use of other classrooms for their classes today, such as rooms that were vacant because of prep periods.
"I was affected by the broken sprinkler because during my prep period, a teacher needed to use my classroom because the front of the E building was too flooded for students to pass through," Algebra II teacher Ms. Tawanna Ervin said.
Janitors around school campus used water extractors to vacuum the excess water surrounding the D and E buildings.
"It's amazing how a blown pipe in the irrigation system caused that much of a mess. In total, we vacuumed 3000 gallons of water," Assistant Principal Mr. Michael Butler said.