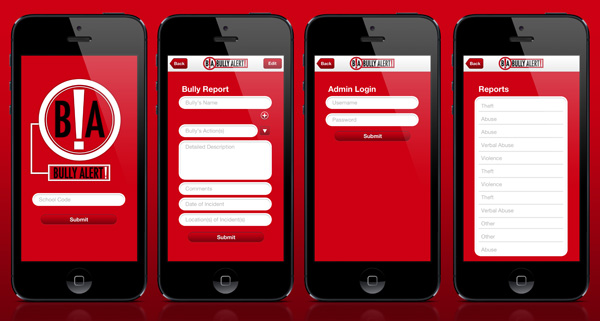 On Jan. 8, 2013, students from the Web Design program submitted a mobile app concept for the 2013 Verizon App Challenge. Out of all of the schools submitted in the Nevada high school category, juniors Blaze Brooks, Quincy Walker, Noah Kibreab, Marcos Ontiveros and Aaron Ford were notified this week that they had won for Best-in-state.
"I felt completely accomplished and proud of my teams work, since we put such an immense amount of effort into this project, " junior Blaze Brooks said.
Their app is a Bully Alert app, so when students are being bullied, a witness can take a picture and report the whereabouts on the spot to the dean's office, or the principal's office. Not only does it feature on the spot "find your location" features, but it also includes a component where they can document what is happening throughout the situation.
"Winning the Verizon app challenge gave me hope that bullying would finally come to an end, and it would help resolve this worldwide problem if our app gets further developed," junior Quincy Walker said.
The Verizon App Challenge is held every year, where students from middle school and high school can participate and come up with a mobile concept that could eventually develop into an app. 10 winners selected by STEM corporate innovaters will receive a $10,000 cash grant for the school, and a Samsung Galaxy Tablet for each group member, and an invitation to the 2013 National Technology Student Association Conference (e). Best in state winners will be chosen on March 18, 2013.

Loading ...
"Our team put a lot of work into the app, and we hope that the same amount of energy that was put into the app goes out into the world," team member Marcos Ontiveros said.
The team will now participate in an evaluation by the TSA, or the Technology Student Association, for a chance to obtain the invitation to the next round.
" I knew their concept was a winner when they approached me. Bullying is a big concern in the nation, and their app would help put a stop to the problem in a very effective way. I am very proud of them, " Web Design leader Ms. Cindi Chang said.